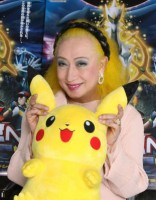 The latest episode of Pocket Monsters
Diamond & Pearl 123 - Pokémon Contest - Tatsunami Tournament!(ポケモンコンテスト・タツナミ大会!! !)
, aired on Thursday in Japan.
Before arriving at Kissaki City, Hikari and friends arrive at Tatsunami Town where Kengo and Hikari enter the Tatsunami Town Pokemon Contest. Who will win the contest and get their next Contest Ribbon?
Characters
,
Pictures
and
music
from this episode have been added to the
episode guide
. You can also
comment and discuss
this episode. Also be sure to rate this and other episodes in the
episode guide
.
A new trailer for the upcoming 12th Pokemon movie aired during Pocket Monsters Diamond and Pearl 123 and on the children's morning show
Oha Suta
. It was revealed that the voice actor for Arceus is
Akihiro Miwa
.