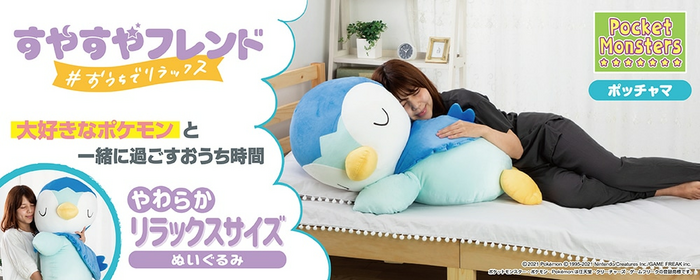 Takara TOMY A.R.T.S has revealed a new
Pokémon Sleeping Friend Relax at Home Pochama (ポケモン すやすやフレンドおうちでリラックス ポッチャマ)
large sized plushie. The Pre-order Period is from Friday, July 2nd, 2021 at 12:00 until Monday, August 9th, 2021 at 23:59 with delivery scheduled for December 2021. The price is 14,960 yen (tax included) with free shipping in Japan.
High resolution images of this product have been added to an Imageboard thread
.
Relaxing Time at Home with Big Pochama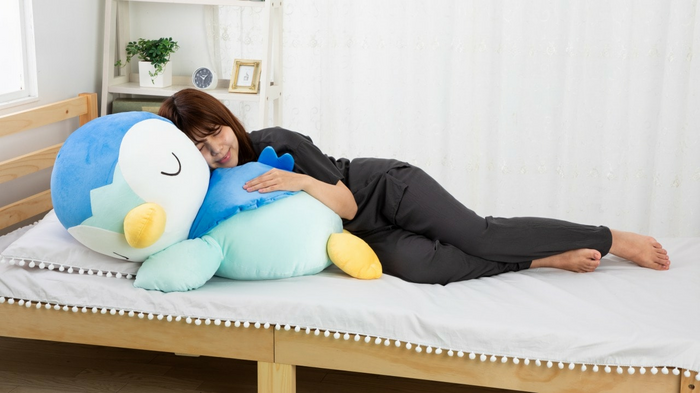 This plush toy is a big version of the "Sleeping Friend" series, which features cute Pokémon sleeping comfortably, and is sure to soothe you with its lovable sleeping face! The theme of this plush toy is "spending time at home with your favorite Pokémon," so it's an excellent way to spend some wonderful time with Pochama.
Feel the soft and fluffy texture with your whole body!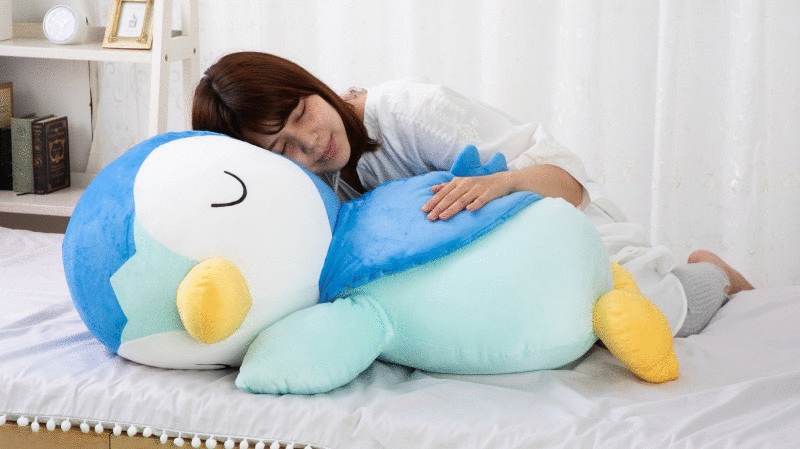 This big-size Pokémon Pochama is more than just cute to look at. It's a plush toy that's made with the finest materials to achieve the ultimate in "fluffy" touch and hugging comfort. It is made of smooth and stretchy fabric, and the cotton inside is finer than usual, so just hugging it invites you into the gentle world of "soft and fluffy" Pochama ♡ It's not too small or too big, and the size is perfect for relaxing when you hug it tightly. Gently hug it and feel the "soft and fluffiness" all over! The "soft and fluffy" Pochama will always be there for you, gently cuddling you.
Happiness of spending 24 hours a day by the cute Pochama......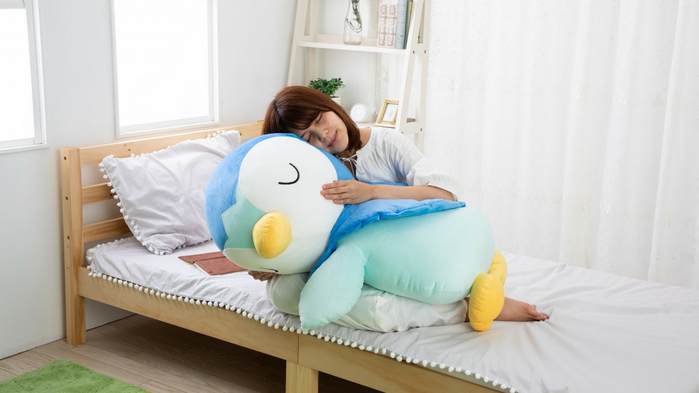 When you wake up in the morning, start the day with a gentle hug of Pochama. In the daytime, you can put it on your lap and watch TV or type away on your computer or smartphone. At night time, you can sleep with it as a hug pillow, and sleep soundly wrapped in his "soft and fluffy" tenderness. You can enjoy the happiness of spending 24 hours a day with Pochama at home. The soft color of the fabric used for the plush toy will naturally blend in with the atmosphere of your room. It is about 90cm long, so it has a great size presence.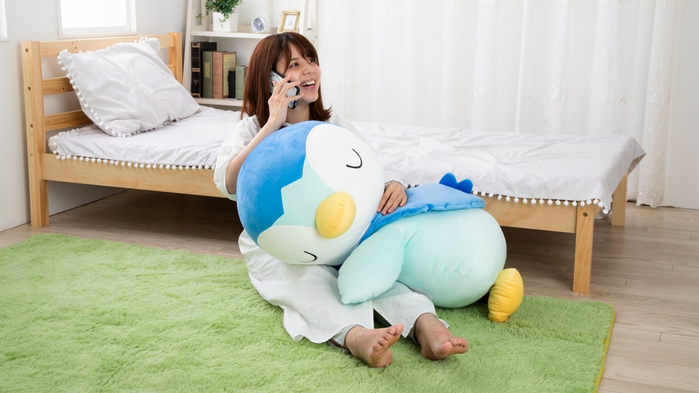 The large size of the Pokémon allows you to feel the comfort of its hug and touch. Playing Pokémon games or watching cartoons and movies with the big Pochama in your arms is sure to be the best way to relax! 
Pochama is one of the three starter Pokémon that could be your first potential adventure partner in the Pokémon Diamond and Pearl games and Pokémon Brilliant Diamond and Shining Pearl, which will be released on November 19th, 2021, this year. It's the perfect first friend! Feel like a Pokémon trainer and welcome the big, fluffy Pokémon into your home!
Product Details:
Pokémon Sleeping Friend Relax at Home Pochama
ポケモン すやすやフレンドおうちでリラックス ポッチャマ
Price:
14,960 yen (tax included), free shipping
Product material:
Polyester, polyurethane
Body size:
900mm (width) x 350mm (height) x 500mm (depth)
Main unit weight:
2540g
Delivery carton size:
W790mm x H290mm x D490mm
Pre-order Period:
Friday, July 2nd, 2021 at 12:00 until Monday, August 9th, 2021 at 23:59
*The pre-order period will end as soon as the scheduled quantity is reached.
Source:
https://e.takaratomy-arts.co.jp/shop/g/g4904790715372/