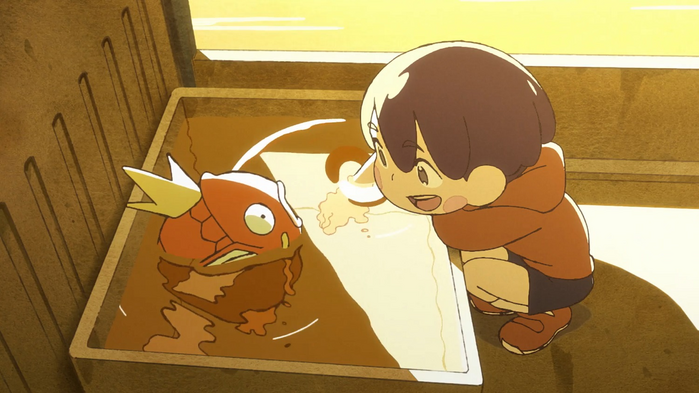 Studio Colorido's new animation
Wait here, Koiking! (まっててね!コイキング)
, was released on July 2nd, 2021 on the
Pokémon Kids TV YouTube channel
! This film depicts the bond between a boy and his Pokémon at a Day Care facility that takes care of Pokémon. The animation features a watercolor style with a silent story with only music which richly expresses emotions.
Pictures from the press release have been added to an Imageboard thread
.
Staff
Director/Character Design: Cedric Herole (エロール・セドリック)
Sound Director: Masafumi Mima (三間雅文)
Music: Yuri Habuka (羽深由理)
General Director: Shingo Yamashita (山下清悟)
Animation Production: Studio Colorido (スタジオコロリド)
Director: Cedric Herole Comments
I love animals, so it's very sad to imagine that owners and their pets are separated from each other. Pokémon are very different from pets, but when I read the script for the first time, I was reminded that it is equally sad when partners are separated. I feel sorry for the Koiking who waited in anticipation, wondering if Rikuo would come back. Koiking are always expressionless, but I'm sure it was sad. I wanted to make a cheerful film, so I didn't push the sadness too hard, but I wanted to convey the loneliness of the Pokémon and the children. Even so, the Koiking dances cheerfully and Rikuo plays the recorder reassuringly. I'm happy to have friends! Because you're never alone.
監督:エロール・セドリック コメント
僕は動物が大好きなので、飼い主とペットが離れ離れになってしまうことを想像すると、とても悲しいです。ポケモンはペットとは違いますが、脚本を初めて読んだとき、パートナーが離れ離れになってしまうのも同じように悲しいことだと改めて感じました。リクオが戻ってくるかなと期待しながら待つコイキングは可哀想です。コイキングは常に無表情ですが、きっと悲しんでいたと思います。明るい作品にしたかったので、その悲しみを強くプッシュしていませんが、ポケモンたち、子供たちの一人ぼっちさのさみしい気持ちは伝えたいことのひとつでした。それでもコイキングは元気に踊り、リクオは心強くリコーダーを奏でます。やっぱり友達増えると幸せ!だって一人じゃないですから。
Source:
https://www.youtube.com/watch?v=H81MSo_3DqA