On August 21st, 2021, Machida City will celebrate the one-year anniversary of the installation of the Pokémon Utility Hole Covers, or PokéLids (Pokéfuta ポケふた) in Serigaya Park as part of its city promotion program. To commemorate this occasion, a mini exhibition will be held at the Event Studio on the first floor of City Hall with the theme of
Machida's PokéLids x Machida's Charm (まちだのポケふた×町田の魅力)
.
Event Details:
Period:
August 10th, 2021 to - August 20th, 2021 *Except Saturdays and Sundays
Hours:
8:30 a.m. - 5:00 p.m.
Location:
Machida City Hall 1st Floor Event Studio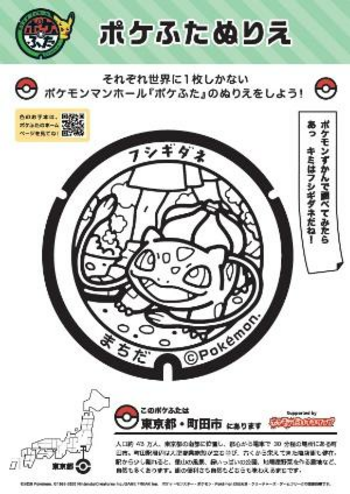 ① Recruitment for the PokéLids x Machida's Attractions Exhibition
Survey the wildlife! Call for reports on the discovery of wildlife in Machida. We are calling for reports on the discovery of "wild creatures" that live in the city and resemble Pokémon through the citizen reporting application Machipika Machida-kun (まちピカ町田くん).
Recruitment Period:
July 15th, 2021 to July 28th, 2021
How to apply:
On the app, select one close-up photo that shows the characteristics of the creature and one distant photo that shows the whole creature, its location and type, and enter the name of the Pokémon it resembles.
Target creatures:
Mammals, birds, amphibians, reptiles, fish, insects, wildflowers, etc.
② Machida PokéLids Coloring Page! Recruiting Everyone for Coloring
They will be accepting colored submissions of Machida's PokéLids Coloring Page. Please use printed A4 paper as part of the application form.
Recruitment Period:
July 15th, 2021 to August 2nd, 2021 (must arrive)
How to apply:
Attach the application form (at the bottom of the leaflet) to the back of the coloring page and drop it in the collection box at the following facilities, or mail it to the Public Relations Section of Machida City Hall (2-2-22 Morino, 194-8520).
The
coloring book and leaflet (application form)
can also be downloaded from the Machida City website.
Source:
https://www.city.machida.tokyo.jp/shisei/city_promotion/pokemonmanhole.html
YouTube Clip - PokéLids - Machida City Installation Celebration - August 21st, 2020
Source:
https://www.youtube.com/watch?v=lKOGgGriBgA