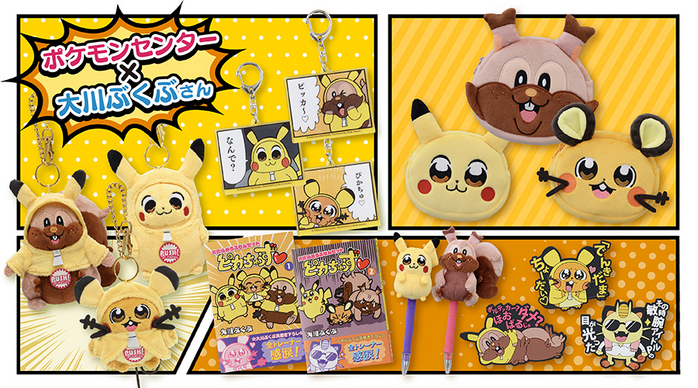 On Saturday August 7th, 2021, items in collaboration with bkub Okawa (大川ぶくぶ) will appear at the Pokémon Center! The new idol group
Pikachu's (ピカちゅうず)
was formed by Pikachu, Dedenne and Yokubarisu and they want to be as popular as Pikachu! The lineup includes mascots, face pouches, a set of stickers with manga-style designs, and other unique goods. The Pokémon Center Online will start selling them from 10:00 a.m. on August 5th, 2021.
At the Amazon.co.jp Pokémon Store, pre-orders for products with a (★) will be starting on August 7th, 2021, and sales starting on August 14th, 2021, but due to the limited number of products available, they may be sold during the pre-order period.
All Pokémon Center stores, Pokémon Store Emifull MASAKI, and the Pokémon Store AEON MALL Okinawa Rycom Shop will carry this line. There is a possibility that other Pokémon Stores will carry the product the week after the release date. In order to prevent the spread of the new coronavirus, some stores may change their opening hours or close temporarily.
Please note that the release of the products may be postponed or cancelled due to the situation in the production area. Please be aware of this beforehand.
LINE - Pokémon Custom Stamp de Chu!
At the stamp shop in the communication app LINE operated by LINE Co., Ltd., the Pokémon LINE stamp collection
Pokémon Custom Stamp de Chu! (ポケモン カスタムスタンプでチュウ!)
drawn by Bukubu Okawa is
now on sale
for 250 yen!
Give your chats a custom feel with these fabulous Pokémon stickers! The ability to freely change the text as often as you like means you'll be ready for whatever conversation comes your way. These illustrations were drawn by popular manga artist Okawa Bukubu himself! They are only available for devices in Japan.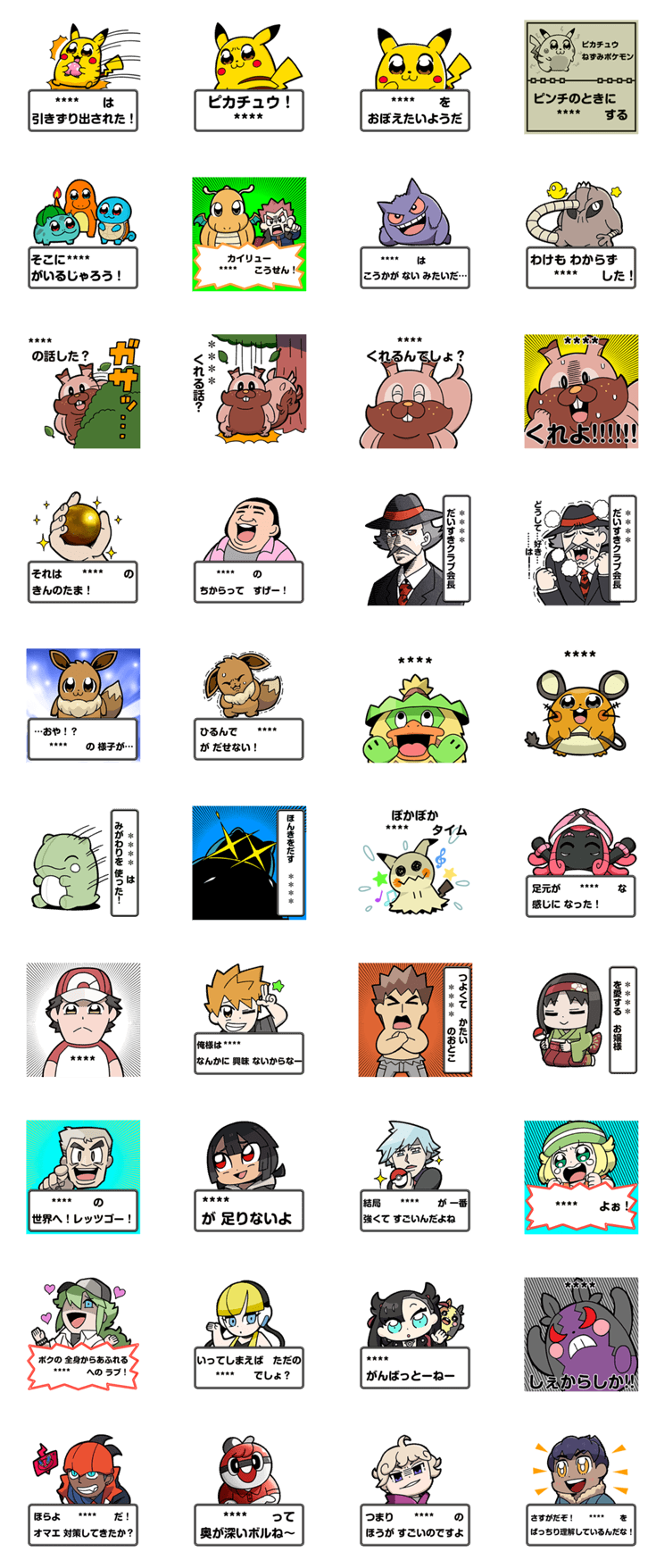 bkub Okawa (大川ぶくぶ ):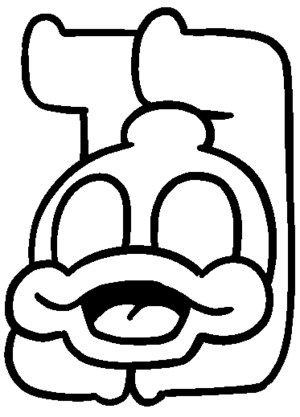 Author of the four-frame manga Pop Team Epic. In addition to working as a manga artist and illustrator, he is also the creator and illustrator of Washagana TV with Mafia Kajita and Yuichi Nakamura on YouTube. In the past, they collaborated on the LINE Pokémon Custom Stamp de Chu! collection.
Manga:
English Translation:
"Pikachu" - Its yellow body charms the population. Its bright red cheeks mesmerize men and women of all ages.
Not a single person hasn't heard of this star Pokemon!
Read this story with desperation! With determination!
Anyway, just work hard to be as popular as Pikachu! Struggle! This is a guide! Full of pokemon's sweat! And tears!
Cute Pikachu! Why don't you make your debut!?
I did it~!
Huh?
The Capable Idol Producer, Nyarth P
The creation of a new Idol Group Pikachu's
Japanese:
「ピカチユウ」 黄色のボディーは 人々を惹きつけ 真っ赤なほっぺは 老若男女を魅了す
今や知らぬ人など 存在しない 全国的スターポケモン!
この物語は 必死に!したたかに!
とにかく ピカチュウのような 人気者になりたいと ちがき! あがき繞ける! ポケモン達の汗と!涙の! 青春白書である!
可愛いピカチュウ達! デビューしてみないかい!?
やった~!
敏腕アイドル プロデューサー ニヤースP
新生アイドルユニット爆誕 ピカちゅうず
Items: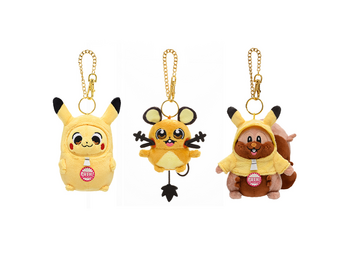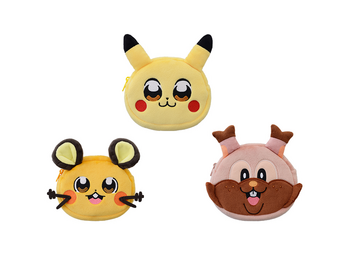 Mascots Pikachu's - 1,760 yen each (★) | Face Pouch Pikachu's - 1,320 yen each (★)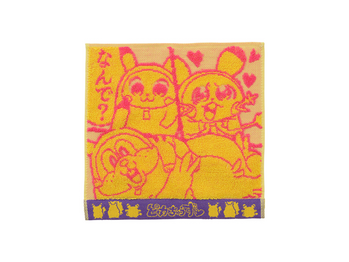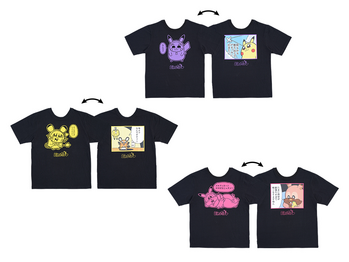 Hand Towel Pikachu's - 660 yen (★) | Reversible T-Shirt Front or Back Pikachu's - 3,300 yen each (★)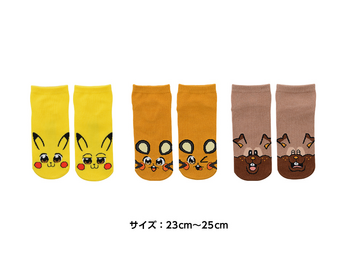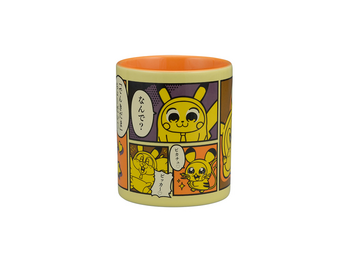 Short Socks Three pairs to choose from: Pikachu's (Pikachu/Dedenne/Yokubarisu): 1,100 yen for three pairs, 440 yen per pair *Size: 23cm-25cm | Pikachu's Mug - 1,650 yen (★)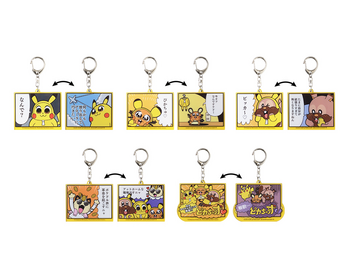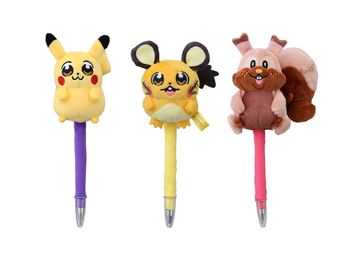 Double-sided Key Ring Pikachu's - 660 yen each (★) | Plush Pen that makes a sound Pikachu's - 1,430 yen each (★)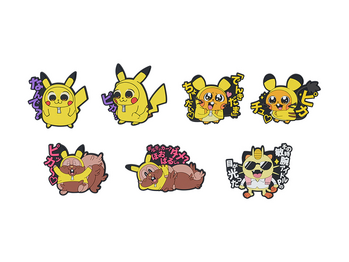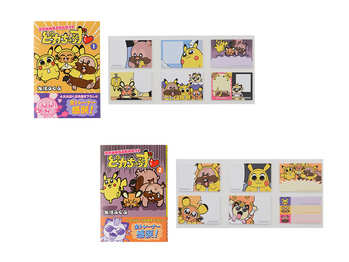 Pikachu's Rubber Clip Collection with Sayings - 7 types chosen at random - 715 yen each | Writable Sticky Note Set Pikachu's 1 - 660 yen (★) | Writable Sticky Note Set Pikachu's 2 - 660 yen (★)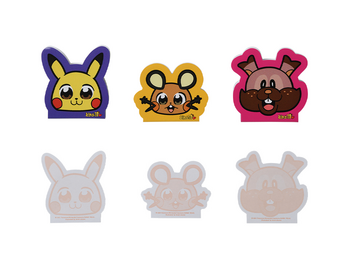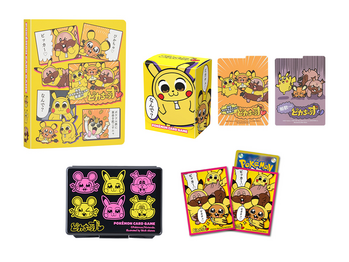 Die-cut Face Memo Set Pikachu's - 1,100 yen (★) | Pokémon Card Game Items
Item List (English):
Lots of Functions! Mascot Pikachu's Pikachu - 1,760 yen (★)
Lots of Functions! Mascot Pikachu's Dedenne - 1,760 yen (★)
Lots of Functions! Mascot Pikachu's Yokubarisu - 1,760 yen (★)
Face Pouch Pikachu's Pikachu - 1,320 yen (★)
Face Pouch Pikachu's Dedenne - 1,320 yen (★)
Face Pouch Pikachu's Yokubarisu - 1,320 yen (★)
Hand Towel Pikachu's - 660 yen (★)
Reversible T-Shirt Front or Back Pikachu's Pikachu - 3,300 yen (★)
Reversible T-Shirt Front or Back Pikachu's Dedenne - 3,300 yen (★)
Reversible T-Shirt Front or Back Pikachu's Yokubarisu - 3,300 yen (★)
Short Socks Three pairs to choose from: Pikachu's (Pikachu/Dedenne/Yokubarisu): 1,100 yen for three pairs, 440 yen per pair *Size: 23cm-25cm
Pikachu's Mug - 1,650 yen (★)
Double-sided Key Ring Pikachu's Pikachu - 660 yen (★)
Double-sided Key Ring Pikachu's Dedenne - 660 yen (★)
Double-sided Key Ring Pikachu's Yokubarisu - 660 yen (★)
Double-sided Key Ring Pikachu's Nyarth - 660 yen (★)
Double-sided Key Holder Pikachu's (Formation/Break-up) - 660 yen (★)
Plush Pen that makes a sound Pikachu's Pikachu - 1,430 yen (★)
Plush Pen that makes a sound Pikachu's Dedenne - 1,430 yen (★)
Plush Pen that makes a sound Pikachu's Yokubarisu - 1,430 yen (★)
Pikachu's Rubber Clip Collection with Sayings - 7 types chosen at random - 715 yen each
A4 Clear File Set (2 sheets) Pikachu's - 506 yen
Writable Sticky Note Set Pikachu's 1 - 660 yen (★)
Writable Sticky Note Set Pikachu's 2 - 660 yen (★)
Sticker Pikachu's Pikachu - 495 yen
Sticker Pikachu's Dedenne - 495 yen
Sticker Pikachu's Yokubaris - 495 yen
Sticker Pikachu's Meowth - 495 yen
Sticker Pikachu's Formation/Break-up - 495 yen
Masking Tape (Set of 3) Pikachu's - 880 yen (★)
Die-cut Face Memo Set Pikachu's - 1,100 yen (★)
Croquis Book SQ Pikachu's - 583 yen (★)
Pokémon Card Game Deck Case Pikachu's - 398 yen
Pokémon Card Game Deck Shield Pikachu's - 792 yen (★)
Pokémon Card Game Mini Card File Pikachu's - 524 yen (★)
Pokémon Card Game Damage Case Pikachu's - 330 yen
Item List (Japanese):
機能もりもり!マスコット ピカちゅうず ピカチュウ 1,760円(★)
機能もりもり!マスコット ピカちゅうず デデンネ 1,760円(★)
機能もりもり!マスコット ピカちゅうず ヨクバリス 1,760円(★)
フェイスポーチ ピカちゅうず ピカチュウ 1,320円(★)
フェイスポーチ ピカちゅうず デデンネ 1,320円(★)
フェイスポーチ ピカちゅうず ヨクバリス 1,320円(★)
ハンドタオル ピカちゅうず 660円(★)
前後どちらでも着られる!Tシャツ ピカちゅうず ピカチュウ フリー 3,300円(★)
前後どちらでも着られる!Tシャツ ピカちゅうず デデンネ フリー 3,300円(★)
前後どちらでも着られる!Tシャツ ピカちゅうず ヨクバリス フリー 3,300円(★)
選べる3足 ショートソックス ピカちゅうず (ピカチュウ/デデンネ/ヨクバリス) 3足1,100円/1足440円 ※サイズ:23㎝~25㎝
マグカップ ピカちゅうず 1,650円(★)
両面キーホルダー ピカちゅうず ピカチュウ 660円(★)
両面キーホルダー ピカちゅうず デデンネ 660円(★)
両面キーホルダー ピカちゅうず ヨクバリス 660円(★)
両面キーホルダー ピカちゅうず ニャース 660円(★)
両面キーホルダー ピカちゅうず 結成・解散 660円(★)
音が鳴る!ぬいぐるみペン ピカちゅうず ピカチュウ 1,430円(★)
音が鳴る!ぬいぐるみペン ピカちゅうず デデンネ 1,430円(★)
音が鳴る!ぬいぐるみペン ピカちゅうず ヨクバリス 1,430円(★)
セリフ付きラバークリップコレクション ピカちゅうず 715円
※全7種。絵柄は選べません。
A4クリアファイル 2枚セット ピカちゅうず 506円
書き込めるふせんセット ピカちゅうず 1 660円(★)
書き込めるふせんセット ピカちゅうず 2 660円(★)
ステッカー ピカちゅうず ピカチュウ 495円
ステッカー ピカちゅうず デデンネ 495円
ステッカー ピカちゅうず ヨクバリス 495円
ステッカー ピカちゅうず ニャース 495円
ステッカー ピカちゅうず 結成・解散 495円
マスキングテープ3本セット ピカちゅうず 880円(★)
ダイカットフェイスメモセット ピカちゅうず 1,100円(★)
クロッキーブックSQ ピカちゅうず 583円(★)
ポケモンカードゲーム デッキケース ピカちゅうず 398円
ポケモンカードゲーム デッキシールド ピカちゅうず 792円(★)
ポケモンカードゲーム ミニカードファイル ピカちゅうず 524円(★)
ポケモンカードゲーム ダメカンケース ピカちゅうず 330円
Source:
https://www.pokemon.co.jp/goods/2021/07/210730_to01.html