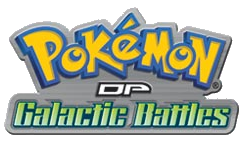 After eleven season, Pokemon is still going strong! This season, be prepared as our fearless adventurers sweep through Sinnoh and meet up with excited Gym Leaders and undercover policemen, deal with some truly troublesome Pokemon, and face off against the sinister Team Galactic! Their travels will take them everywhere, from the harsh Steel-type terrain of Iron Island to the frozen north of Snowpoint City! It's time to delve into another Pokemon season which kicks off on Cartoon Network on May 9th, 2009!
Cartoon Network will have new episodes for you every Saturday morning at 9AM EST, plus a special encore of each week's new episode on Sunday at 7:30AM EST! (Be sure to check local listings for airtimes in your area!)
Pokemon DP Galactic Battles has been added to the episode guide.
There you can find information about each of the episodes.
Source:
http://www.pokemon.com/#news_/XML/news_367.xml