The latest episode of Pokémon Sunday,
Electric Shock Showdown! Kuchiba Gym / The Great Investigation of the PokéDun 'Patcheel Café' / Announcement of the Latest News: Director Shoko-tan makes a World-first Announcement for the PokeSun Company! (「でんげきたいけつ!クチバジム」 「ポケダン「パッチールのカフェ」を大調査!」 「しょこたん部長が、ポケサンカンパニーで世界初発表となる最新情報発表!」)
, aired on Sunday in Japan.
The preview for this weeks episode indicated that a large announcement would be on the show. The
official website
also confirms that the announcement will take place during the Pokémon Game Arena segment which is at the end of the show. Earlier this week, Pokémon Heart Gold (ポケットモンスター ハートゴールド) and Pokémon Soul Silver (ポケットモンスター ソウルシルバー) were announced on the
official Japanese Pokemon website.
Logos from the game, new Sugimori art and a few seconds of in game play was shown.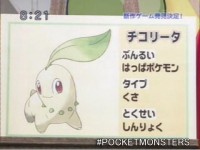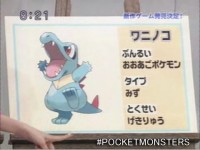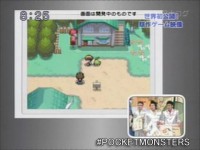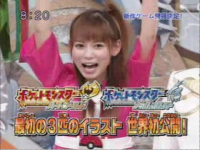 Higher resolution pictures are available on the
Imageboard thread
.
In today's episode of Pokemon Sunday, Robert dresses up as characters from the latest Pokemon Dungeon game. Each of them emulates various tasks that players do in the game.
Sableye once again returned for his short segment. This time he takes a shocking pen and places it in a stationary shop hoping to shock people testing out pens. After a few customers test out the pens without getting shocked, Sableye goes to test his pen only to get shocked himself.
Pictures
from this episode have been added to the
episode guide
. You can can also
comment and discuss
this episode. Also be sure to rate this and other episodes in the
episode guide
.