The The Wand Company has announced that the highly accurate die cast Ultra Ball replica is available to purchase as of September 1st, 2021. The
Great Ball
,
Master Ball
and
Poké Ball
were all released earlier this year.
Images of this product have been added to an Imageboard thread
.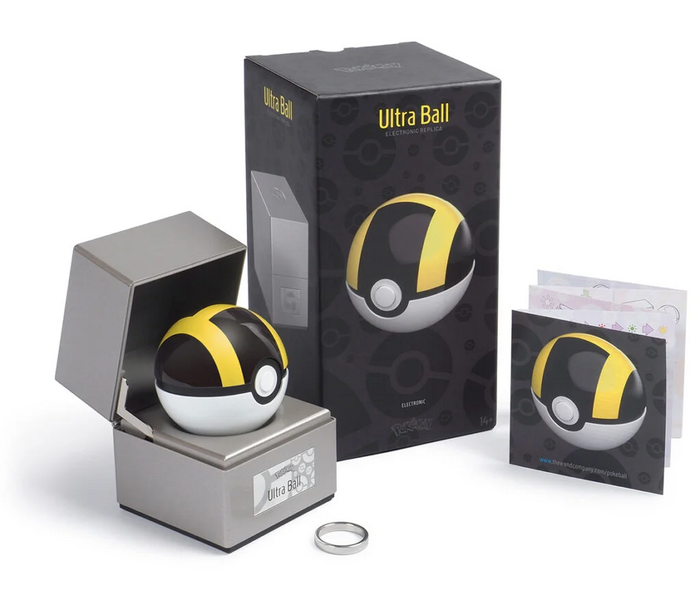 The Wand Company - Ultra Ball
Edition:
Standard production – released initially in North America, mainland Europe, the UK, Australia, and New Zealand
Numbering:
Uniquely numbered on display case base
Release date:
1st September 2021
Packaging:
Full colour merchandising box over a protective EPS foam block
Livery:
Black and white painted shell decorated with distinctive yellow accent
Replica weight:
293 g (10.34 oz) with standard batteries fitted
Box contents:
Ultra Ball, metallic silver Celebration Year presentation display case, polished stainless steel display ring (hidden in the bottom of the display case), illustrated manual, 3 x AA batteries installed in the display case, and 3 x AAA batteries installed inside the Great Ball.
Retailers:
Available to buy now from these official retailers while stocks last.
United States:
Amazon.com, Sideshow, Big Bad Toy Store
Europe:
Zavvi, Derive Figurine, Loot Store and Yugen Collectibles
UK:
Forbidden Planet
Australia:
Mighty Ape
New Zealand:
Mighty Ape
Ultra Ball:
With its 2x catch rate modifier, its striking black, yellow, and white shell, the Ultra Ball Replica is a perfect addition to any Trainer's Poké Ball collection.
Source:
https://www.thewandcompany.com/pokeball/