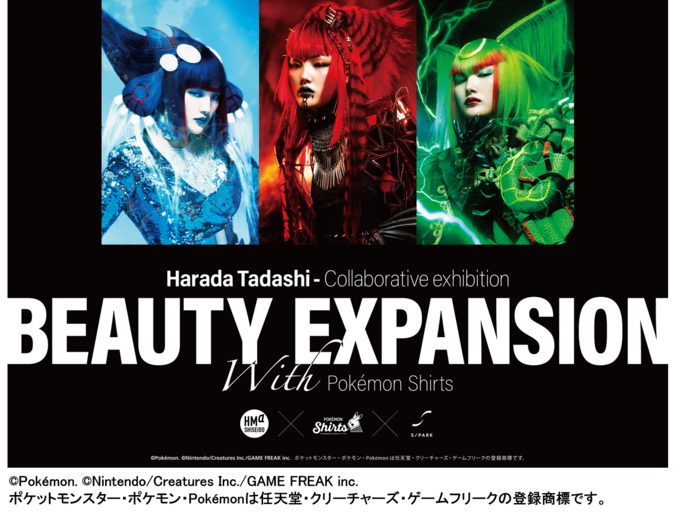 The Shiseido Global Innovation Center (S/PARK) will hold the Harada Tadashi Collaborative exhibition BEAUTY EXPANSION with Pokémon Shirts from Friday October 15th, 2021 to Saturday, October 30th, 2021. (Closed on Sundays). For this exhibition, Shiseido's top hair and makeup artist Tadashi Harada will showcase his work in collaboration with Pokémon Shirts, a service that allows you to order your very own Pokémon shirt.
Harada has not only done hair and make-up for collections and advertisements, but has continued to take on the challenge of various beauty expressions such as visualizing popular manga and characters. Harada's unique expression and works have been highly regarded, and he collaborated on the Pokémon Shirts key visuals, in which he challenged himself to visualize the Pokémon characters Groudon, Kyogre, and Rayquaza in hair, makeup, and fashion.
In this exhibition, the process of completing the Pokémon Shirts key visual will be shown, from image sketches to displays of hair wigs and hair pieces, as well as an original making-of video. Furthermore, as the exhibition is held within the Shiseido Global Innovation Center, Shiseido researchers will also be exhibiting scientific expressions of the key visuals from various perspectives as an initiative to allow visitors to familiarize themselves with cosmetics research technology. During the exhibition period, the S/PARK Cafe in the same facility will sell original red, blue, and green drinks inspired by Harada's works, and the S/PARK Museum will sell a limited edition booklet of Tadashi Harada x Pokémon Shirts and Pokémon acrylic key chains.
Contents of Exhibition
The world's largest Crystal LED display system, as of April 2019, on the first floor will display for the first time Harada's original and powerful collaborative video with Pokémon Shirts. Cornish, a composer and music producer who has created music for many popular TV programs and animations, including Pokémon, and is an artist with a unique sensibility and a wealth of novelty that he sublimates with his outstanding skills, has created a piece of music inspired by the key visual. The music is inspired by the key visuals and is used in the video. The design and styling of the Pokémon Shirts will also be exhibited.
Conisch recently composed the music for the animation Pokémon Twilight Wings (series of animation started from Jan 2020 inspired by the world-renowned Pokémon video games) which is gaining excellent reputation. His album released at the beginning of 2020 "ONKAN Episode1" is a collaborative work with a well-known sculptor Junkyu Muto and well-received as an innovative attempt of harmonising art and music.
Cornish's profile website (Soranone INC.)
https://soranone-inc.com/conisch
The BEAUTY EXPANSION booth on the second floor is a space where visitors can "relive" Tadashi Harada's creations with their five senses. The exhibition shows the process of creating a key visual work inspired by the Pokémon shirt and the Pokémon characters Groudon, Kyogre, and Rayquaza. From October 15th, 2021 to October 23rd, 2021, life-size LED panels of the key visuals will also be displayed.
In addition, Shiseido's researchers have created an exhibition that expresses the key visuals through science from a variety of perspectives. Using the key visuals created by Harada as a source of inspiration, fragrance research will present the creation of fragrances, sensitivity research will present explanations of texture and sensation, and psychological research will present the results of psychological verification of music created by composer and music producer Cornish. In addition, from psychological research, the results of psychological verification of a song by composer and music producer Cornish are presented.
Online Streaming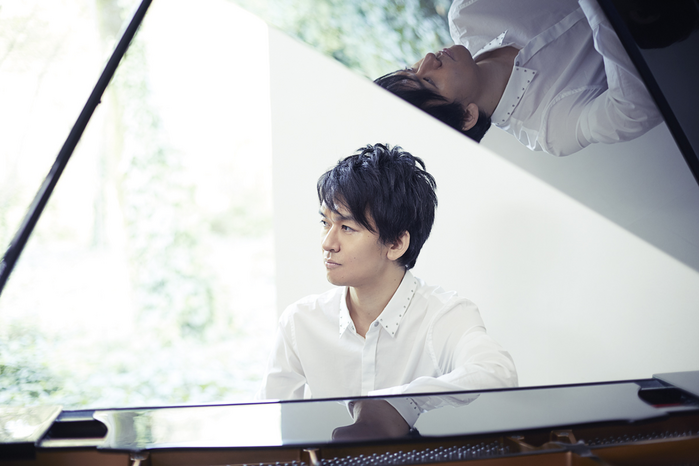 On Wednesday, October 20th, 2021, a live performance without an audience featuring composer/music producer Cornish, Harada, and Shiseido researchers, as well as scenes from the exhibition will be broadcast on the Shiseido official YouTube channel (free of charge).
Viewing period: Wednesday, October 20th, 2021 to Friday, December 31st, 2021
Shiseido's official YouTube channel:
https://corp.shiseido.com/jp/r/yt/20211008/01/?rt_pr=trj62
YouTube Clip - Cornish Performance - October 20th, 2021
Source:
https://www.youtube.com/watch?v=OaLHvfe9BU0