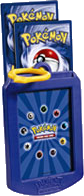 BELLEVUE, Wash., June 1 /PRNewswire/ -- The Pokemon Company International and Burger King Corp. (NYSE: BKC) today announce a promotional partnership that will feature collectible premium Pokemon Trading Card Game (TCG) game cards and accessories in BK(R) Kids Meals across North and South America. The announcement is one of several major brand extensions for Pokemon this year that continue to reinforce the property's stature and longevity as one of the most successful children's brands of all-time. The BK(R) Kids Meals promotion will run for three weeks in the U.S. and Canada beginning June 1, followed by a four-six week program that will launch in South America on August 24, 2009.
As part of the promotion, participating BURGER KING(R) restaurants will offer two Pokemon TCG cards, featuring fan favorites such as Pikachu(TM), Giratina(TM), Dialga(TM) and Palkia(TM), and a Pokemon themed accessory with each purchase of a BK(R) Kids Meal, while supplies last. Over the course of the promotion, participating BURGER KING(R) restaurants will be the only places to obtain each of the six different accessories, including Pokemon card holders, lenticular rockers, and card frames.
"We're kicking off the summer with a promotion that kids are crazy for," said Cindy Syracuse, senior director, cultural marketing, Burger King Corp., "and we're excited to be able to bring them more of what they want."
The program will be supported by Burger King Corp. through a fully integrated marketing campaign that includes television advertising, in-restaurant merchandising, and online via http://www.clubbk.com/. The Pokemon TCG cards and accessories are available for a limited time only and are intended for children ages three and up.
"Our internationally recognized Pokemon characters are sure to be very popular with the BK(R) Kids Meal audience," said J.C. Smith, marketing director at The Pokemon Company International. "This is a big year for Pokemon and our partnership with Burger King Corp. fits nicely into a calendar full of exciting Pokemon events."
The March U.S. release of the Pokemon Platinum Version video game for the Nintendo DS(TM) set the foundation for a roll-out strategy that included the introduction of an all-new Pokemon Trading Card Game (TCG) release, a new direct-to-DVD film, and the launch of a new season of the animated TV series on Cartoon Network.
Pokemon Platinum Version was first released in Japan, where it quickly became the fastest-selling Nintendo DS game in history, with more than 1 million copies sold in the first three days. To date, worldwide sales have exceeded 3.75 million copies. The numbers confirm Pokemon's prominence in the video game industry, where more than 191 million Pokemon titles have been sold worldwide since the first release on the Nintendo Game Boy(R) in Japan in 1996.
In February, fans were introduced to the Platinum brand with the release of the all-new Pokemon Trading Card Game (TCG) Platinum. The second TCG expansion for 2009, Platinum--Rising Rivals, was released nationwide on May 20th. The Pokemon TCG has seen a 374% sales growth in the U.S. since 2005 and is sold in more than 30 countries around the globe.
Beyond the core video game and TCG introductions, the animated feature film Pokemon: Giratina & the Sky Warrior debuted on Cartoon Network in February and was released to DVD in March through new distribution partner Universal Studios Home Entertainment. Earlier this month, fans were treated to additional new programming with the eagerly awaited launch of the 12th season of the top-rated Pokemon animated series Pokemon: Galactic Battles on Cartoon Network. Debut episodes air Saturday mornings, with repeats on Sundays. Repeats of Season 11 - Pokemon: DP Battle Dimension - air daily Monday through Friday.
Capping off a year of constant activity, through spring and summer The Pokemon Company International will engage fans in a round of TCG and Video Game Championship (VGC) tournaments culminating with the highly anticipated, co-located Pokemon World Championships on August 14th in San Diego, CA. Pokemon TCG fans and Pokemon Platinum Version video game Trainers from more than 25 countries around the globe will compete to be crowned World Champions.
Source:
http://sev.prnewswire.com/retail/20090601/NY2595801062009-1.html