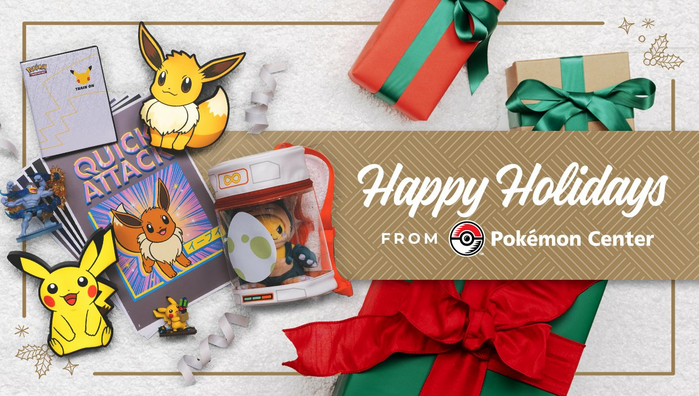 The Pokémon Company International today began releasing a festive holiday merchandise collection for Pokémon Center, the premier online destination for official Pokémon merchandise in the US and Canada. Trainers can celebrate the season with a lineup of holiday-themed Pokémon products, including adorable plush, collectible figures, cozy clothing, festive home décor and more.
Product images from the press release have been added to an Imageboard thread
.
Pokémon Center Launches Holiday Collection Featuring Plush, Home Décor, Apparel and More
In addition, Pokémon Center has released a
curated holiday gift guide
that makes it easy for Trainers to find great gifts to delight the Pokémon fans in their lives.
The full holiday collection includes the following products (with more arriving the coming weeks), which can be found at PokemonCenter.com in the US and PokemonCenter.ca in Canada starting today:
Plush: Trainers can snuggle up with themed Pikachu, Glaceon, Piplup and Mantyke plush, or accessorize with plush keychains featuring Chinchou, Spheal, Buizel and Galarian Corsola.
Delibird Holiday Express Figures: The popular Delibird Holiday Express train figure series is returning to Pokémon Center with Snorlax Pass, MooMoo Milk & Cookies and Ponyta Holiday Rockers figures that are brimming with holiday cheer. Also, Trainers can complete their Delibird Holiday Express collection with previously released figures, such as Pikachu Engine, Dragonite Flat Car, Alolan Vulpix Box Car and Slowpoke Caboose.
Apparel and Accessories: Trainers can gear up for cooler weather with a vast array of clothing and accessories that feature fan-favorite Pokémon. Items include sweaters, pajamas, scarves, gloves, beanies, headbands and festive pin sets.
Home Décor: Hearths and trees will look jollier with the addition of wintery items such as ornaments and wreaths. Throws and pillow covers sporting festive Pokémon are perfect for adding a cozy touch to décor.
Kitchenware: Luxe kitchenware starring Pikachu and Delibird, as well as Gardevoir and Togekiss, adds a festive touch to holiday meals.
Select fan-favorite items from last year's holiday line are also returning to Pokémon Center, giving Trainers more ways than ever to celebrate the season.
The Pokémon Center Welcomes 2021 Holiday Season with Winter Wonders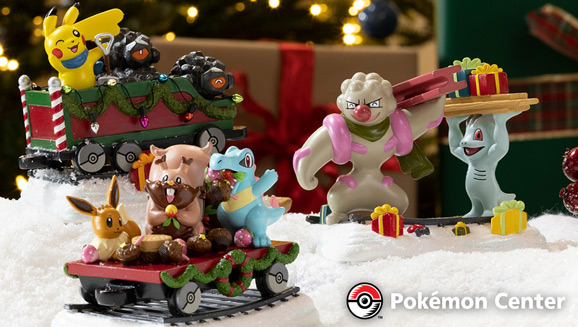 Deck the halls, don cozy apparel, and give epic gifts with the Pokémon Center's holiday collection.
'Tis the season for gatherings with friends and family and decking the halls with festive décor. And the Pokémon Center is ready to help you celebrate the most wonderful time of the year with the wonderful, whimsical Winter Wonders Collection, coming soon. Stay warm and stylish with accessories and apparel including headbands, scarves, beanies, sweaters, and onesie pajamas. Make your house merry and bright with décor and home goods that include tree skirts, stockings, candles, and so much more.
When the weather is frightful, it's all the more important to create a cozy atmosphere at home. Let your favorite Pokémon help to make the season bright with holiday classics from tree skirts to stockings. Choose between a Pikachu, Delibird, Gardevoir, or Togekiss stocking, or get one of each for friends and family. If you're planning on gathering around the tree, why not make sure it's covered in adorable Pokémon? Get individual ornaments featuring the adorable Pikachu, Eevee, or Piplup having a blast in the snow, or go all out with a set of 12 elegant round ornaments, each etched with a different Pokémon.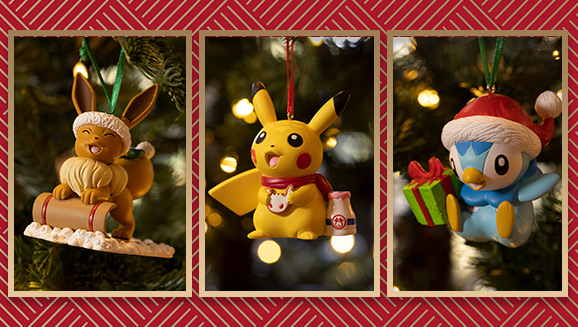 It's all aboard the Delibird Holiday Express Train as a festive parade of Pokémon make their way home for the holidays! Aipom, Chespin, and Sobble enjoy plates of holiday cookies, along with some MooMoo milk. Jigglypuff, Cubone, and Wooloo show admirable restraint by not opening any presents before they're supposed to. And Slowpoke takes a much-needed nap from the holiday festivities atop a gingerbread house that Munchlax has decided to snack on. Captured in vivid detail, the Delibird Holiday Express Train series adds a playful touch to your holiday décor. It also makes for easy gifting as there are multiple cars to choose from, including the engine, flat car, box car, and caboose.
Whether you're offering a multi-course feast or gathering for some holiday movies and themed snacks, the Pokémon Center has tasteful tableware to help set a festive scene. From a bamboo cutting board to make the prep work fun to themed candleholders, there are countless ways to incorporate Pokémon into your holiday tablescapes.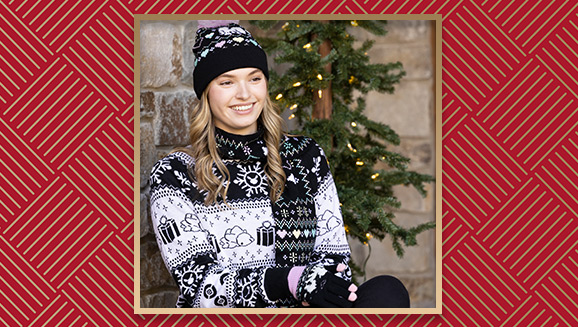 Walking in a winter wonderland is a blast, but it can get a bit chilly. Fortunately, the Pokémon Center has everything you need to stay toasty for all your favorite holiday activities, whether indoors or outdoors. Matching knit headbands, gloves, scarves, and beanies make for adorable and practical accessories for all sorts of outdoor fun. Choose between Pikachu, Galarian Ponyta, or a Poké Ball festive winter print, or mix and match for a colorful effect. Complete your look with a knit sweater featuring beloved Pokémon such as Pikachu, Eevee, Snorlax, Stantler, or Snom. Better still, get one for each of your friends and family members so you won't have to choose.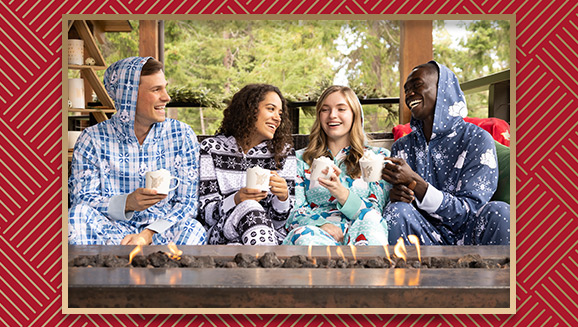 Whether you're looking to make a festive statement at your next holiday party or to just stay comfortable and happy while hanging out at home, the Pokémon Center's hooded onesie pajamas are the ultimate in comfort and whimsy. These picturesque pajamas will make holiday activities as memorable as the Pokémon they feature—Snorlax, Vanillite, or Snom.
Jingle bell rock on over to the Pokémon Center for delightful décor, amazing apparel and accessories, tantalizing tableware, and so much more! To receive ground shipment orders within the United States by December 24, place your order by December 10 at 12 p.m. PST.
Sources:
https://www.pokemon.com/us/pokemon-news/the-pokemon-center-welcomes-2021-holiday-season-with-winter-wonders/
Items:

Item List:
Pokémon Audio Collection: Pokémon Center × U-Turn Audio Turntable - $399.99
Pokémon Holiday Sculpted Wreath - $79.99
Snom Holiday Snowflake Hooded One-Piece Pajamas - Adult - $59.99
Snorlax Holiday Hooded One-Piece Pajamas - Adult - $59.99
Snom Snowflake Hooded One-Piece Pajamas - Adult - $59.99
Vanillite Hooded One-Piece Pajamas - Adult - $59.99
Pikachu Holiday Lights Knit Sweater - Adult - $44.99
Pikachu Festive Winter Knit Sweater - Adult - $44.99
Snom Holiday Present Knit Sweater - Adult - $44.99
Stantler Holiday Lights Knit Sweater - Adult - $44.99
Snorlax Holiday Knit Sweater - Adult - $44.99
Eevee Holiday Lights Knit Sweater - Adult - $44.99
Pokémon Winter Wonders Pillow Covers (4-Pack) - $39.99
Delibird Holiday Express Moomoo Milk & Cookies Tank Car Figure - $39.99
Delibird Holiday Express Ponyta Rockers Flatcar Figure - $39.99
Delibird Holiday Express Snorlax Pass Figure - $39.99
Pokémon Winter Wonders Ornaments (12-Pack) - $29.99
Pokémon Winter Wonders Bamboo Wood Cutting Board - $29.99
Piplup & Mantyke Pokémon Undersea Holiday Plush - 8 ¾ In. - $27.99
Pikachu Pokémon Undersea Holiday Plush - 8 ¾ In. - $21.99
Pokémon Snowy Holiday Pokémon Pins (3-Pack) - $19.99
Pokémon Holiday Joy Pokémon Pins (3-Pack) - $19.99
Galarian Ponyta Festive Winter Knit Scarf (One Size-Adult) - $19.99
Pikachu Festive Winter Blue Knit Scarf (One Size-Adult) - $19.99
Poké Ball Festive Winter Knit Scarf (One Size-Adult) - $19.99
Charizard Festive Winter Knit Scarf (One Size-Adult) - $19.99
Pikachu & Piplup Pokémon Undersea Holiday Wreath Plush - 7 In. - $19.99
Glaceon Pokémon Undersea Holiday Plush - 8 ¾ In. - $19.99
Poké Ball Festive Winter Knit Beanie (One Size-Adult) - $16.99
Charizard Festive Winter Knit Beanie (One Size-Adult) - $16.99
Pikachu Festive Winter Blue Knit Beanie (One Size-Adult) - $16.99
Galarian Ponyta Festive Winter Knit Beanie (One Size-Adult) - $16.99
Buizel Pokémon Undersea Holiday Plush Key Chain - $14.99
Poké Ball Festive Winter Touch Screen Gloves (One Size-Adult) - $14.99
Poké Ball Festive Winter Knit Headband (One Size-Adult) - $14.99
Galarian Ponyta Festive Winter Touch Screen Gloves (One Size-Adult) - $14.99
Galarian Corsola Pokémon Undersea Holiday Plush Key Chain - $14.99
Pikachu Festive Winter Blue Touch Screen Gloves (One Size-Adult) - $14.99
Charizard Festive Winter Touch Screen Gloves (One Size-Adult) - $14.99
Chinchou Pokémon Undersea Holiday Plush Key Chain - $14.99
Spheal Pokémon Undersea Holiday Plush Key Chain - $14.99