From November 1st, 2021 to November 14th, 2021, outdoor advertisements for the Nintendo Switch games Pokémon Brilliant Diamond and Shining Pearl will be displayed in six cities across Japan! You'll find messages from the characters you remember from your time in the Sinnoh region.
By scanning the QR code on the ad with your smartphone, you can activate the AR camera. By holding the camera up to the Pokémon Diamond and Pearl game screen in the ad, you can play the special content that sets the new adventure of Pokémon Brilliant Diamond and Shining Pearl in motion! There are over 10 different messages to choose from, so share them with everyone and share your memories!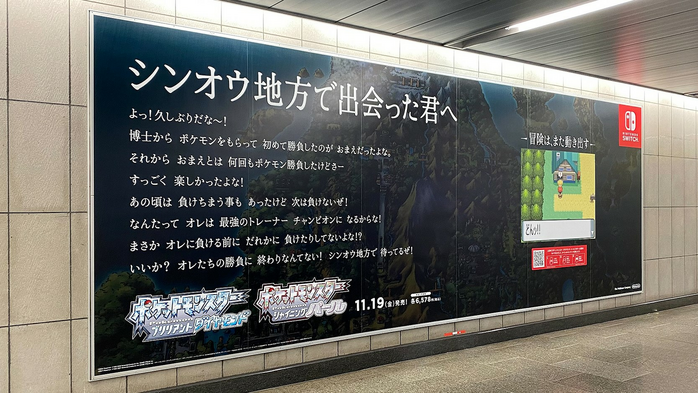 Banner Ad Translation:
Oh hey! It's been awhile! You're the one I battled right after I got my first Pokémon from the professor, aren't you? Oh boy, we must have battled so many times since then, huh? Those were so much fun.
I many have lost to you back then but I'll be the winnter next time! And that's because I'm going to become the strongest Trainer - the Champion! But wait... you haven't lost to anyone before losing to me, right? No? Well, okay then! It looks like our match isn't over yet! I'll be waiting for you in the Sinnoh Region!
Venues
■ Tokyo
・ Ikebukuro Station
・ Tokyu Denentoshi Line Shibuya Station
・ Keio Line Shinjuku Station Poster
・ Pokémon Center Mega Tokyo
■ Sapporo
・ Sapporo Municipal Subway Sapporo Station - Odori Station
■ Sendai
・ Sendai Subway Sendai Station
■ Osaka
・ Osaka Metro Midosuji Line Umeda Station
・ Osaka Metro Midosuji Line Shinsaibashi Station
・ Osaka Metro Midosuji Line Namba Station
■ Nagoya
・ Nagoya Municipal Subway Nagoya Station (2 locations)
■ Fukuoka
・ Nishitetsu Fukuoka (Tenjin) Station
Sources:
https://www.pokemon.co.jp/info/2021/11/211101_e01.html
and
https://twitter.com/DogasusBackpack/status/1455333331701092354