The latest episode of Pokémon Sunday,
Tanba Gym! Helmet-Front Bout Fighting Showdown!! / Robert's Great Investigation of the Individual Charactistics of the Interesting Johto Region Gym Leaders / The 3 Most Popular Battles by Vote!(「タンバジム!まっこうしょうぶかくとうたいけつ!!」 「ロバートがジョウト地方のおもしろいジムリーダーや個性的なキャラクターを大調査」 「最初に選べる3匹バトル!」)
, aired on Sunday in Japan.
Satoshi and friends are heading for Tanba City and they stopped at the pharmacy where they met Konatsu who was getting medication for Akari, the Denryu that lights the Radiance Lighthouse. Satoshi then met Shijima practicing on the beach. Will Satoshi win his next badge?
In today's episode of Pokemon Sunday, Shoko announced the new PokéWalker (ポケウォーカー) portable device that allows players of the upcoming Pokemon Heart Gold and Soul Silver games to transfer their Pokemon to the device to train them on the go. The device includes a pedometer which allows people to train their Pokémon up to level 100 by walking around. The device also looks like it will have mini-games.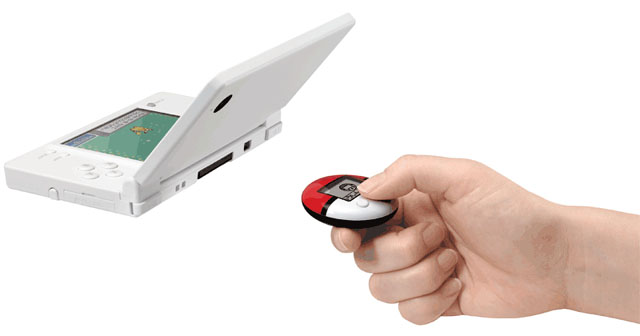 Nintendo released press images today of the PokeWalker. "The PokeWalker will convert your steps into watts, a currency that can be used to catch wild Pokemon and shop for tools." (
IGN
) The Pokemon can then be sent back into Heart Gold and Soul Silver by wirelessly syncing to your Nintendo DS or DSi.
Pictures
from this episode have been added to the
episode guide
. You can can also
comment and discuss
this episode. Also be sure to rate this and other episodes in the
episode guide
.