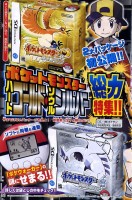 Pictures from the latest CoroCoro issue have leaked and reveal a lot of new information about the upcoming Pocket Monsters games Heart Gold and Soul Silver. The cover art shows a larger than normal box that includes the recently announced PokéWalker (ポケウォーカー). The cover also shows pictures of Ho-oh and Lugia.
Newly Announced Features:
After beating the Johto Elite Four in Heart Gold and Soul Silver, Kyogre and Groudon can be caught .
Once Kyogre and Groudon are transferred to a single Heart Gold or Soul Silver cart, Rayquaza can be encountered.
Screenshots that show Arceus & Cynthia are possibly in Heart Gold and Soul Silver for a special event.
Pre-orders for both games starts on July 4th, 2009 in Japan. Those that pre-order Heart Gold will receive a Ho-Oh figure and those that pre-order Soul Silver will receive a Lugia. If you pre-order both games you will also get a Arceus figure.
More scans from the latest issue of CoroCoro
are available on the Imageboard.