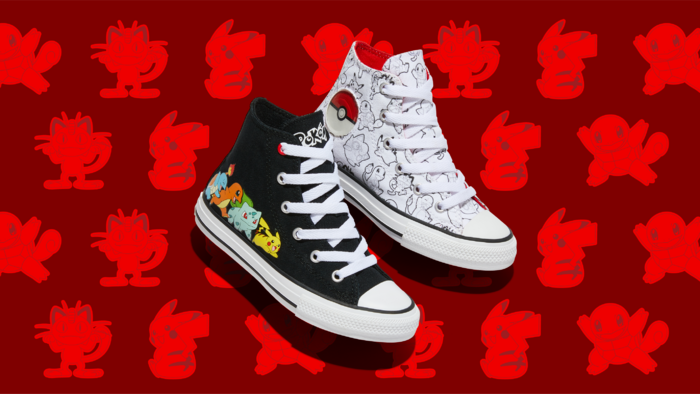 Converse joins the 25th anniversary celebration of Pokémon with the debut of a full range of Pokémon-inspired footwear, apparel, and accessories to round out every fan's collection. Throwing it back to the Kanto region, where Trainers first began exploring the Pokémon world, an original class of Pokémon are interpreted on Converse's Chuck Taylor All Star icon. The beloved Bulbasaur, Charmander, Squirtle, Jigglypuff and Pikachu come to life through the lens of heavy metal tour merch –– underscoring Pokémon's duality of cuteness and edginess. Melding two pop culture classics, the Converse collection is prepped to outfit Pokémon Trainers of any age.
High resolution images from the press release have been added to an Imageboard thread
CONVERSE GO BACK TO THE KANTO REGION TO CELEBRATE 25 YEARS OF POKÉMON
The ultimate fan expression, a range of nostalgia-filled footwear, apparel and accessories includes likes of Pikachu and Jigglypuff
Converse x Pokémon First Partners Chuck Taylor All Star (Adult, Youth and Little Ones) With over a century of heritage, the Chuck Taylor All Star has been adopted as a classic symbol of style, self-expression and accessibility. Now, it is designed to fit the whole family. The Pokémon collection's Chuck Taylor ranges from infant to adult sizing and allows fans to share their affinity for the franchise. This asymmetrical pair features a graphic print of Bulbasaur, Charmander, Squirtle and Pikachu. On the right sneaker, the group gleefully welcomes their friend Jigglypuff. Juxtaposed on the left sneaker, the crew is positioned in battle stance as they await their foe, Meowth. The classic Chuck patch and top eyelet are reinterpreted as a Poké Ball and a custom license plate on the back of the shoe completes the design with a lightning bolt motif inspired by Pikachu's Electric-type Moves.
Poké Ball Chuck Taylor All Star: The original basketball sneaker is reimagined with a full cast of Pokémon personalities. Designed for adults and youth looking to represent an array of favorites, the Chuck Taylor All Star features an all-over pattern of Pokémon printed against a white canvas upper. On the silhouette's lateral, a domed, squeezable Poké Ball adds tactile dimension to the silhouette, creating a playful element to the sneaker. The Poké Ball carries to a custom license plate, featuring the motif at the heel.
Easy-On Chuck Taylor All Star Ox (Infant): Designed for the tiniest Pokémon fans, the Easy-On Chuck Taylor All Star feature two of the franchise's most recognizable Pokémon: Pikachu and Jigglypuff. Pikachu appears on a vibrant yellow canvas upper with one strap over the elastic laces. Pikachu's likeness is printed on a yellow leather toe cap as well, with ears popping out from the front and a lightning bolt tail at the heel, alluding to the character's electrical abilities. A second Chuck Taylor is designed for even smaller fans, featuring two straps for optimal adjustability. A scene of Jigglypuff singing is printed on a pink canvas, overlapping slightly over the rubber foxing tape for added dimension.
Pokémon 25th Celebration Hoodie: Inspired by rock tour merchandise, the 25th Celebration Tour pullover hoodie is designed with "electrified" Converse and Pokémon graphics, taking inspiration from both Pikachu's Electric-type Moves and metal band designs. Featuring "tour stops" from the world of Pokémon on the back, the heavyweight fleece gives Pikachu a heavy-metal edge.
Jigglypuff Sherpa Crew Neck Sweater: Jigglypuff is central to this cozy Sherpa-fleece sweater. The Mallow Pink sweater is embroidered with an edgy Jigglypuff graphic, further accentuating the duality of the Pokémon's cute yet edgy personality.
Pokémon Team and Pikachu T-Shirts: Long and short sleeve t-shirts highlight Pokémon favorites through graphic prints and 25th celebration branding. The short sleeve t-shirt is a classic crew neck centered on Pikachu, incorporating its tail as part of the Converse's star chevron logo. A set of long-sleeve t-shirts in black and red highlight the Pokémon team with a graphic at the front and collaborative wordmarks on the sleeves.
Camp Cap and Go 2 Backpack: Rounding out the collection in utility and style are two Pikachu-inspired accessories. The first, a retro-style camp cap features a Pikachu graphic on the front and "electrified" Converse wordmark on the back, nodding to Pikachu's Electric-type Moves. A Go 2 Backpack is designed to carry the essentials and also pays homage to Pikachu's powers with an all-over lightning graphic.
As part of Converse By You, a digital customization experience also enables Trainers to craft their own unique Pokémon Converse on the Chuck Taylor All Star and Chuck 70.
The Chuck 70 high top blends iconic style with the electric power of Pikachu. Premium leather and canvas craftsmanship is paired with a reflective Pikachu print and discovery details – including a mash-up Poké Ball and Chuck Taylor logo ankle patch.
The classic Chuck Taylor All Star, wearers may select vibrant graphics from the Pokémon universe, featuring first partner Pokémon, Pikachu and Pokédex numbers. Eight region names, from Galar to Kanto, are available to print along the midsole along with a choice of colors on the eyelets, midsole, pinstripes, media patch and laces.
Converse x Pokémon pricing begins at £35 while custom pricing varies. Available in youth and adult sizing, the collection launches globally starting December 10 at Converse.com and select retailers.