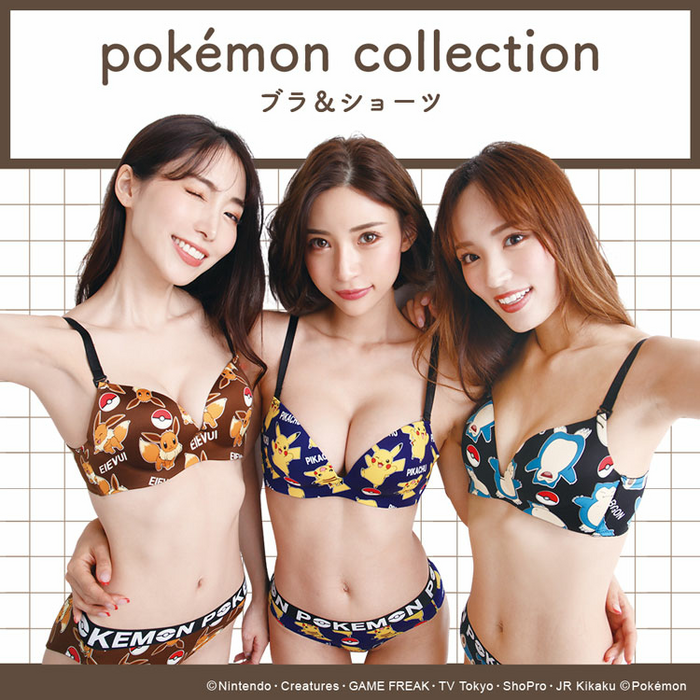 aimerfeel has released an officially licensed Pokémon Collection featuring: Bra and panties, boxers, Pikachu and Eievui Fluffy Hoodie Sets, and Fleece Upper and Lower Sets. From December 23rd, 2021 until December 31st, 2021, the entire collection is on sale 30% off as part of their year-end bargain sale.
High resolution photos of the collection have been added to an Imageboard thread
.
aimerfeel - Pokémon Collection - Bra and panties
Pikachu, Eievui, and Kabigon's expressions are printed on the bra and panties! They are cute designs that will cheer you up just by looking at it.
The perfect bra for relaxed, everyday use. This seamless, non-wire bra, which adjusts the bust silhouette and brings you closer to beautiful breasts, comes in a POP design with Pokémon, monster balls, and Pokémon names.
It is easy to wear even for long hours and is recommended for those who are not comfortable with silhouettes that emphasize bust volume and cleavage. The thin built-in padding blends in with the bust for a natural and beautiful feeling. In addition, the U-shaped back that prevents the brassiere from slipping.
Available in yellow (Pikachu), brown (Eievui), and green (Kabigon).
Price: 3,190 yen each
aimerfeel - Pokémon Collection - Boxers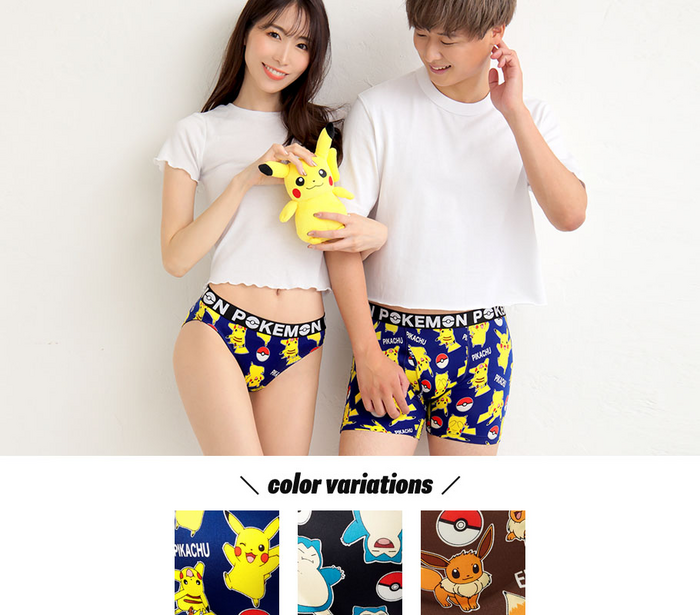 Here come the cute Pokémon boxers with the patterns all over them! They have a POP design with monster balls and Pokémon names on them. The soft, stretchy fabric and smooth texture make them comfortable to wear, and the plain type is perfect for everyday use. Men's boxers are also sold separately, so families and couples can secretly enjoy wearing the same shorts together.
Available in yellow (Pikachu), brown (Eievui), and green (Kabigon). Price: 1,320 yen
aimerfeel - Pokémon Pikachu Fluffy Hoodie Set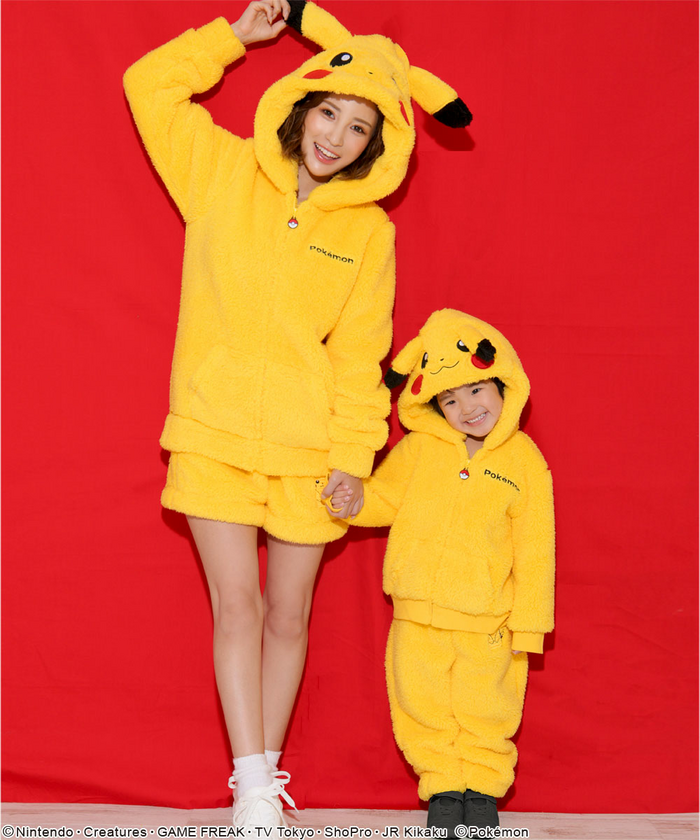 A warm and fuzzy hoodie with a popular Pokémon design. The hood with fluffy ears makes for a cute back view! The embroidered Pikachu/Eievui tail and the zip-up monster ball are also attention-grabbing details. The light and warm fleece material makes it a great winter wear item. Not only is it great as loungewear for relaxing time, but it's also sure to look good on social media! This item will also make a great gift.
Price: 7,590 yen Tops / 3,190 yen Bottoms
aimerfeel - Pokémon Fleece Upper and Lower Set
This fleece top and bottom set features the popular Pokémon designs. The light, warm, brushed fleece material is smooth to the touch and will be a big hit during relaxation time. The top has a large image of an adorable Pokémon and the logo is embroidered on the bottom left leg. This warm loungewear can also be used as pajamas or loungewear, making it a great gift item.
Available in off-white (Eievui), black (Pikachu), pink (Purin), and mint (Kabigon).
Price: 5,830 yen Adults
4,730 yen Kids
Item List (English):
aimerfeel - Pokémon Collection Pokémon Seamless, non-wire Bra - 3,190 yen each
Pokémon Women's Panties - 1,320 yen each
Pokémon Men's Boxers - 1,980 yen each
Pokémon Pikachu Fluffy Hoodie Top - 7,590 yen
Pokemon Pikachu Fluffy Kids Top and Bottom Set - 7,150 yen
Pokémon Pikachu Fluffy Shorts Bottoms - 3,190 yen
Pokémon Pikachu Fluffy Long Pant Bottoms - 4,290 yen
Pokémon Eievui Fluffy Hoodie Top - 7,590
Pokémon Eievui Fluffy Kids top and bottom set - 7,150
Pokémon Eievui Fluffy Long Pant Bottoms - 4,290 yen
Pokémon Eievui Fluffy Shorts Bottoms - 3,190 yen
Pokémon Fleece Adult Top and Bottom Set - 5,830 yen
Pokémon Fleece Kids Top and Bottom Set - 4,730 yen
Item List (Japanese):
エメフィール ポケモンコレクション
ポケモン 総柄 ノンワイヤー 美胸ブラ シームレス 単品ブラジャー ¥3,190
ポケモン 総柄 プレーンショーツ ¥1,320
ポケモン 総柄 メンズ ボクサーショーツ ¥1,980
ポケモン ピカチュウ モコモコ パーカー 単品トップス ¥7,590
ポケモン ピカチュウ モコモコ Kids 上下セット ¥7,150
ポケモン ピカチュウ モコモコ ショートパンツ 単品ボトムス ¥3,190
ポケモン ピカチュウ モコモコ ロングパンツ 単品ボトムス ¥4,290
ポケモン イーブイ モコモコ パーカー 単品トップス ¥7,590
ポケモン イーブイ モコモコ Kids 上下セット ¥7,150
ポケモン イーブイ モコモコ ロングパンツ 単品ボトムス ¥4,290
ポケモン イーブイ モコモコ ショートパンツ 単品ボトムス ¥3,190
ポケモン フリース 上下セット ¥5,830
ポケモン フリース kids 上下セット ¥4,730
Sources:
https://shop.aimerfeel.jp/shop/pages/pokemon_1001.aspx
and
https://twitter.com/project_eevee/status/1475653004615372800