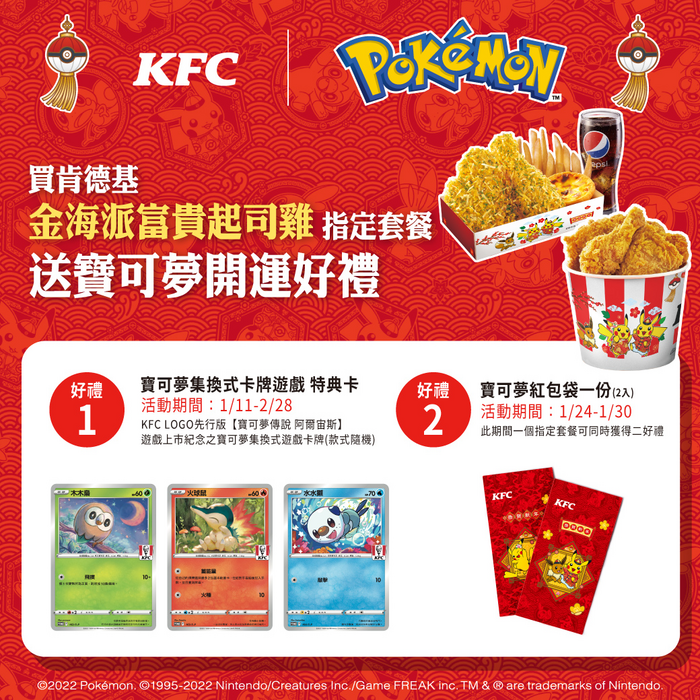 The New Year's family gathering is all about eating chicken! KFC in Taiwan is launching a new limited-time new product
Golden Seafood Chicken with Rich Cheese (金海派富貴起司雞)
. The unique seafood flavor sauce perfectly presents the delicious food and is then sprinkled with luxurious shredded Parmesan cheese, so with one bite, you'll have the best of both worlds!
To commemorate the upcoming launch of the Pokémon LEGENDS: Arceus game, from January 11th, 2022, those that purchase the Golden Seafood Chicken with Rich Cheese set which includes an XL meal, a meal for two which is great for Lunar New Year to enjoy the double gift!
3 Pokémon TCG cards are being distributed at random and they feature the starters Pokémon from Pokémon LEGENDS: Arceus: Rowlet, Cyndaquil and Oshawott. The cards feature the KFC logo on them.
Gift 1: 1/11-2/28: KFC LOGO First Edition Pokémon Trading Card Game Bonus Card (Random)
Gift 2: 1/24-1/30: Pokémon Ang Pow Bag (2 pieces)
※The number of gifts is limited, while supplies last!
※This product contains crustaceans (shrimp, crab), fish, shellfish (oyster extract), eggs, soybeans, grains containing gluten protein. Those with allergies should pay attention to the label.
Source:
https://www.facebook.com/Pokemon.Official.Taiwan/posts/2254412291365606
YouTube Clip - KFC Chinese New Year Pokémon Gift!
Source:
https://www.youtube.com/watch?v=iKxJJVwzIRU
YouTube Clip - KFC Commercial
Source:
https://www.youtube.com/watch?v=nNapmtDac-g