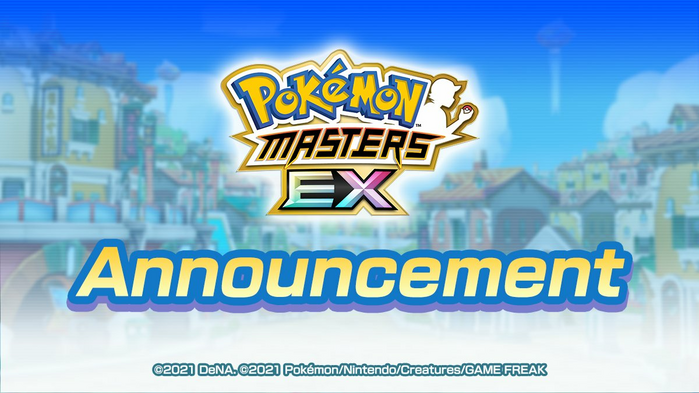 The producer of Pokémon Masters Yu Sasaki posted an open letter about the game on the Pokémon Master's official website. The letter addresses the upcoming changes to the game.
A Message from the Pokémon Masters EX Team (Vol. 30)
Greetings, Trainers.
We're the producers of Pokémon Masters EX, Yu Sasaki and Tetsuya Iguchi, here with a new message for you.
Today, we'll focus on details about new sync pairs that will arrive in late January and share information about events.
The Jukebox Arrives at Last!
As we mentioned in a previous message, January's update introduced a feature that expands the use of music in the game. This feature is the Jukebox, which can be found by searching for Chatot, located to the right of Trista in the Pokémon Center.
By tapping the Jukebox, you'll go to the Jukebox screen, where you can listen to music whenever you want.
You also can set songs you've unlocked to play as background music during battle.
This update adds a selection of songs, and we're planning to add more in future updates starting in late February.
Also, by obtaining items called Song Keys, you'll be able to unlock songs corresponding to the Song Keys' numbers.
You can obtain a Song Key for each song by either raising certain sync pairs to 6★ EX or exchanging Music Coins in the Exchange Items section of the Shop or the Unlock Songs section of the Jukebox.
Starting January 30, 2022 at 10:00 p.m., daily missions will be updated, and you will be able to get Music Coins as mission rewards.
Also, the Music Coin Challenge Daily Battle Event will be available for a limited time beginning January 27, 2022 at 10:00 p.m., giving you a chance to earn as many Music Coins as possible, so we hope you give it a go.
Unlock your favorite songs, and enjoy the music of Pokémon Masters EX from the Jukebox!
Story Event: Sweet Shenanigans Is Coming!
The Sweet Shenanigans Story Event is scheduled to begin on January 30, 2022 at 10:00 p.m.
Marnie and Bea will each play a big part in this event, and they'll arrive in the Sync Pair Scout as Seasonal Sync Pairs wearing sweet outfits.
By playing the event, you just might be able to receive special presents from the two of them, so we hope you look forward to it!
Marnie (Palentine's 2022) & Mawile
Marnie (Palentine's 2022) & Mawile are a Steel-type tech sync pair.
With their Steel Wish move, they can create a Steel Zone, which powers up Steel-type attack moves by 50%. Also, their Passive Skill can lower the opponent's Attack and Defense when they enter battle, and their move Growl can lower the Attack of all opponents by one stat rank.
Additionally, their Move Shout It Out! raises their own Attack by two stat ranks and their Defense and Sp. Def by one stat rank, and they can use Iron Head to attack while trying to make the target flinch!
Bea (Palentine's 2022) & Vanilluxe
Bea (Palentine's 2022) & Vanilluxe are an Ice-type support sync pair.
Their Move Let's Share! raises the Attack and Sp. Atk of all allies by four stat ranks. During a hailstorm, it will also increase the Physical Moves ↑ Next effect of all allies by one rank.
Plus, one of their Passive Skills will raise their own Defense and Sp. Def during a hailstorm.
Also, another Passive Skill of theirs can cause a hailstorm the first time they enter a battle, so take advantage of it and play to Bea (Palentine's 2022) & Vanilluxe's strengths!
New Story Content Being Added to the Sinnoh Chapter of the Villain Arc!
How are you enjoying the story of the Villain Arc's Sinnoh Chapter?
Starting February 9, 2022 at 10:00 p.m., new story content will be added, bringing the Sinnoh Chapter to its thrilling conclusion.
Will the feelings of Cynthia and the Team Galactic admins be enough to stop Cyrus? And how will his ambitions come to an end? See for yourself when the story is released!
Also, an event is scheduled to begin at the same time as this addition to the Sinnoh Chapter.
In this event, you'll be able to collect Palkia Crystals to strengthen Cyrus & Palkia. After you strengthen them, their Sync Grid will be expanded, and tiles will be added that can be unlocked without consuming Energy, as well as tiles that allow you to learn even more powerful Grid Skills. You'll be able to give Cyrus & Palkia quite a boost, so we hope you look forward to these additions.
The Run-Up to 2.5 Years Celebration Is Coming to Pokémon Masters EX!
Thanks to your support, it will soon be two and a half years since the game's launch. To show our appreciation to all players, a Log-in Bonus and Mission Bingo will begin as part of our Run-Up to 2.5 Years rally starting February 16, 2022 at 10:00 p.m. We're also planning various events and special festivities for the Run-Up to 2.5 Years Rally that we're not mentioning here, so don't miss it!
Future Updates
Finally, we'd like to share some information about future updates.
Update for Pokémon That Hatch from Eggs
Eggs, which you can get from Professor Bellis by completing battles in the Main Story, the Training Area, and other places, will be updated. With this update, some Pokémon from past events will be added! These added Pokémon can hatch from Eggs that you obtain from February 23, 2022 at 10:00 p.m., onward.
Update for the Two-and-a-Half-Year Mark
As we mentioned in a previous message, we're currently developing new content that will allow you to learn battle tips, and it's set to release at the two-and-a-half-year mark. In this content, you'll be able to get a total of 5000 gems by completing it to the end. We're also preparing rewards that will appeal to both new players and experienced players alike.
In addition to this content, we're also preparing separate special missions in which you can earn lots of gems by meeting certain conditions, such as completing the PML Arc of the Main Story or completing the Champion Stadium. Plus, by purchasing certain bundles, you'll also be able to receive a large amount of paid gems when completing Missions.
Of course, if you've already completed the Champion Stadium or other Missions, you'll still be able to receive gems at the time of the update.
We hope that this new content will encourage those who haven't completed the PML Arc, who haven't attempted the Champion Stadium, or who are having a tough time completing the Champion Stadium to take on those battles with confidence.
What to Expect in the Next Message
Our next message is scheduled for late February. In it, we plan to share information about the two-and-a-half-year mark of the game, as well as new sync pairs and events.
We're always working hard to deliver updates and improvements that make the world of Pokémon Masters EX as fun as possible.
Until next time, thank you for playing Pokémon Masters EX.
Pokémon Masters EX Producer: Yu Sasaki
Operations Producer: Tetsuya Iguchi
Source:
https://pokemonmasters-game.com/en-US/announcements/Other_3120_5W_1