Various retailers online have revealed the
Pokémon TCG: Lucario VSTAR Premium Collection
which will be released on April 8th, 2022 for $39.99 USD.
The mighty Lucario is ready to battle in the Pokémon TCG: Lucario VSTAR Premium Collection. This set includes two stunning etched promo cards featuring the popular Pokémon. First up is Lucario V, whose Crushing Punch lets you discard a Special Energy from your opponent's Active Pokémon, and whose Cyclone Kick does an impressive 120 damage. Lucario V can then evolve into Lucario VSTAR, who has the Fighting Knuckle attack that does 120 damage and an extra 120 more if your opponent's Active Pokémon is a Pokémon V. Lucario VSTAR's incredible VSTAR Power Aura Star does 70 damage for each Energy attached to your opponent's Active and Benched Pokémon, so wait until they've powered up their team to unleash this punishing move.
In case those two cards aren't enough, this Premium Collection also includes an etched oversize card of Lucario VSTAR that will look great on display along with the included collector's pin, metallic coin, and acrylic VSTAR marker. You'll also get six Pokémon TCG booster packs to swell your ranks. It's a terrific collection for Lucario fans or anyone looking to dole out some damage in the Pokémon TCG.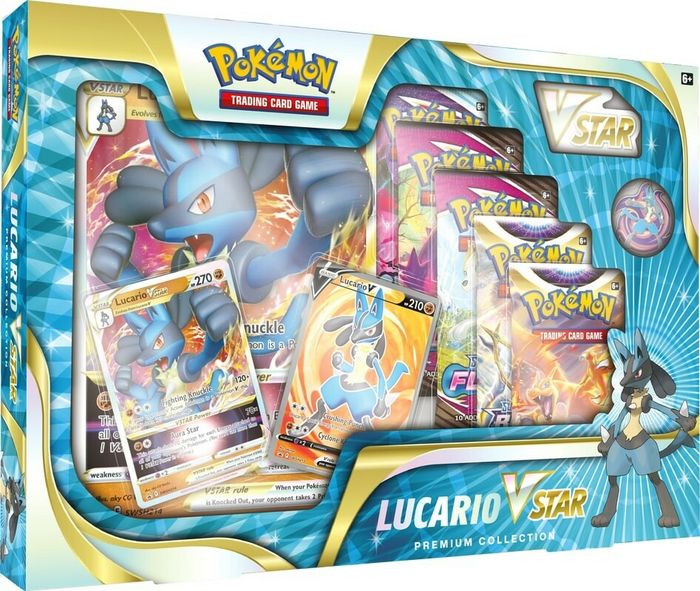 Pokémon TCG: Lucario VSTAR Premium Collection
Become an Aura Star with Lucario VSTAR!
Channeling all of its determination and might, Lucario VSTAR unleashes an Aura Star for the ages! In this collection, you get playable foil cards featuring Lucario V and Lucario VSTAR, plus an oversize version of Lucario VSTAR for display. You'll also find a Lucario pin featuring a unique design, a glimmering Lucario coin, and Pokémon TCG booster packs with even more cool and powerful Pokémon.
Each Pokémon TCG: Lucario VSTAR Premium Collection includes:
1 etched promo card featuring Lucario V
1 etched promo card featuring Lucario VSTAR
1 etched oversize card featuring Lucario VSTAR
1 colorful collector's pin featuring Lucario
1 metallic coin featuring Lucario
1 acrylic VSTAR marker
6 Pokémon TCG booster packs
A code card usable in either the Pokémon TCG Online or Pokémon TCG Live
Source:
https://www.pokemon.com/us/pokemon-tcg/product-gallery/lucario-vstar-premium-collection/