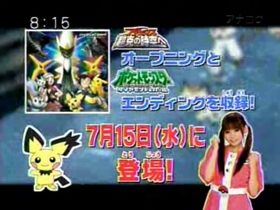 The latest episode of Pokémon Sunday,
Thunder and Crystal! The Lake's Secret! / Robert's Big Investigation of the 'Arceus' Cards!! / Pikachu-Colored Pichu VS Arceus (「サンダーとクリスタル!みずうみのひみつ!」 「アルセウス」のカードをロバートが大調査!!」 「ピカチュウカラーのピチューVSアルセウス」)
, aired on Sunday in Japan.
In today's episode of Pokemon Sunday, Robert have another live Pokemon Card Game Battle with all the new Arceus cards. The crew also showcased the new Pokewalker device that is bundled with the upcoming Pocket Monsters Heart Gold and Soul Silver that will be released on September 12th.
A Melee! Pokemon Scramble code was announced today that unlocks a Parasect. Visit the "Unknown Recruiting" area, (the red building), and enter the code to unlock the Pokemon.




Melee! Pokemon Scramble
Pokémon Sunday Parasect
Code:7653-3521
Strength: 497
Attack: X-Scissor (シザークロス)



A separate page has been created to keep track of all the passwords for the Pokemon. It will be updated as new codes become available.
Click here to visit the Password page.
Pictures
from this episode have been added to the
episode guide
. You can can also
comment and discuss
this episode. Also be sure to rate this and other episodes in the
episode guide
.