Kotobukiya has revealed the final design for the
ARTFX J Kōki with Hikozaru (ARTFX J コウキ with ヒコザル)
figure based on the illustration drawn by Hitoshi Ariga for Pokémon Diamond and Pearl. The figure is available to pre-order in Japan from February 15th, 2022 until March 22nd, 2022 for 12,980 yen.
Pictures of this product have been added to an Imageboard thread
.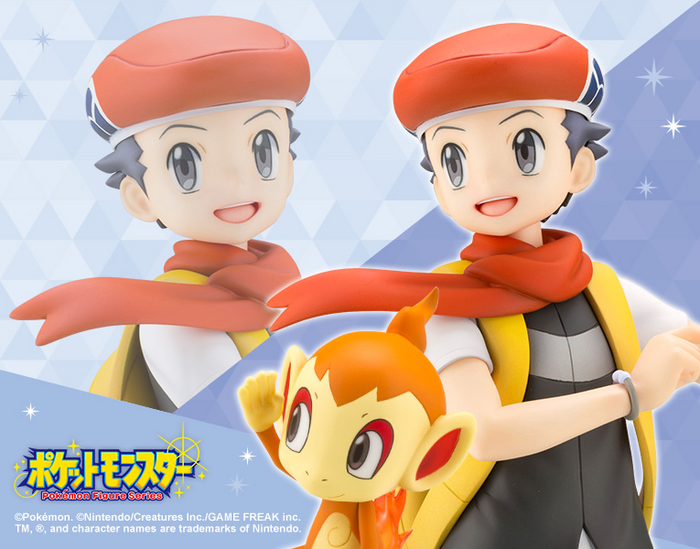 Product Description:
The figure is based on an illustration by Hitoshi Ariga, a well-known artist from the series! The backpack has been carefully sculpted down to the smallest of details, and the features of his outfit have also been reproduced.
The Hikozaru, sitting on a rock, has been carefully sculpted down to his plump belly and cute back! It's a gem of a figure that reminds us of the bond between partners who aim to reach their potential together.
Stay tuned for more figures from the Kotobukiya Pokémon series!
Product Details:
ARTFX J Kōki with Hikozaru (ARTFX J コウキ with ヒコザル )
Release Month:
July 2022
Pre-order Period:
February 15th, 2022 until March 22nd, 2022
Price including tax:
10,780 yen
Scale:
1/8
Product Size:
Kōki: approx. 202mm in height, Hikozaru: approx. 70mm in height (including base)
Product Specifications:
Complete painted PVC figure
Materials:
PVC (non-phthalate), ABS
Sculptor:
Kōki : ko_nen(modeloft), Hikozaru: Tobe
Sources:
https://shop.kotobukiya.co.jp/shop/g/g4934054038718/
and
https://www.kotobukiya.co.jp/product/product-0000004423/
YouTube Clip - ARTFX J Kōki with Hikozaru
Source:
https://www.youtube.com/watch?v=1PIPKXMdhOU