The Pokémon Center United States is now stocking the Good Smile Company figma Marnie which was originally released in Japan in November 2021. The figure costs $79.99 USD.
High resolution product pictures have been added to an Imageboard thread
.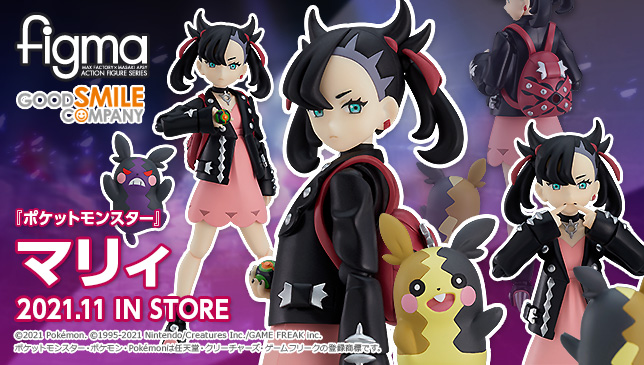 figma Marnie
One of the main character's rivals, Marnie, is now a figma! From "Pokémon Sword and Shield" comes a figma of one of the main character's rivals, Marnie!
The smooth yet posable figma joints allow you to act out a variety of different scenes.
A flexible plastic is used in specific areas, allowing proportions to be kept without compromising posability.
She comes with three face plates including an emotionless face, a smiling face—often seen when she is training her Morpeko—and a serious face.
She comes with several optional parts including two miniature figures of Morpeko (Full Belly Mode and Hangry Mode), her backpack and a Dusk Ball.
An articulated figma stand is included to display the figma in a variety of poses.
Marnie & Her Moody Morpeko!
Your rival from Spikemuth is ready for battle, appearing as a highly posable figma that lets you recreate favorite scenes from Pokémon Sword and Pokémon Shield! Change Marnie's expression with three face plates—a stoic face, a smiling face, and a serious face—and position the smooth, posable joints to show her throwing a Dusk Ball, striking a victory pose, or practicing her smile with her partner Morpeko. Morpeko appears in both Full Belly Mode and Hangry Mode so you can choose how it appears next to Marnie.
Product Details:
Product Name:
figma Marnie
Series:
Pokémon Sword and Shield
Manufacturer:
Good Smile Company
Category:
figma
Original Price:
¥9,000
Release Date:
2021/11
Specifications:
Painted ABS&PVC non-scale articulated figure with stand included. Approximately 125mm in height.
Sculptor:
Max Factory (Naoya Takahashi, Masu)
Cooperation:
Masaki Apsy
Planning/Production:
Max Factory
Released/Distributed by:
Good Smile Company
Item Dimensions:
15 x 15 x 18.5 CM
Country Of Origin:
Made in China
SKU:
703-06391
Source:
https://www.goodsmile.info/en/product/10646/figma+Marnie.html
and
https://www.pokemoncenter.com/product/703-06391/figma-marnie-action-figure-with-morpeko