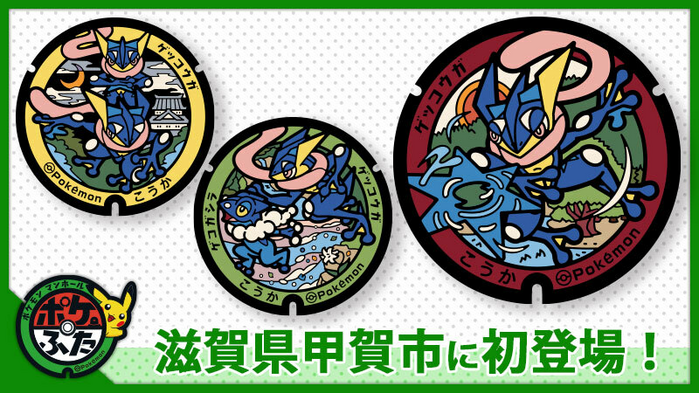 Three new Pokémon Utility Hole Covers, or PokéLids (Pokéfuta ポケふた) were unveiled for Koka City, Shiga Prefecture, known as the home of the Koka Ninja. February 22nd is known as
Ninja Day (忍者の日)
and Greninja appearing at the unveiling made perfect sense. The three new manholes depict Gekogashira and Gekkouga and are based on images of various landscapes in Koka City, and will be installed in the city.
Pictures from the press release have been added to an Imageboard thread
.
Each PokéLids is an original design and each is unique with the aim of promoting the appeal of Pokémon and each region they are installed in throughout Japan.
The PokéLids that are installed will gradually become PokéStops for the location-based game Pokémon GO for smartphones.
Unveiling Videos:
Location of the new PokéLids in Koka City
① Gekkouga Pokefuta: 600 Ryuboshi, Konancho, Koka City, Shiga Prefecture (滋賀県甲賀市甲南町竜法師600)
② Gekkouga Pokefuta: 230 Kitanauchi, Minakuchi-cho, Koka City, Shiga Prefecture (滋賀県甲賀市水口町北内貴230)
③ Gekkouga and Gekogashira: 507-2 Okubo, Koka-cho, Koka City, Shiga Prefecture (滋賀県甲賀市甲賀町大久保507番地2)
Sources:
https://twitter.com/Pokemon_cojp/status/1495971648394219523
,
https://twitter.com/pokemon_pdc/status/1495942204082524164
and
https://twitter.com/poke_times/status/1495971688147738625