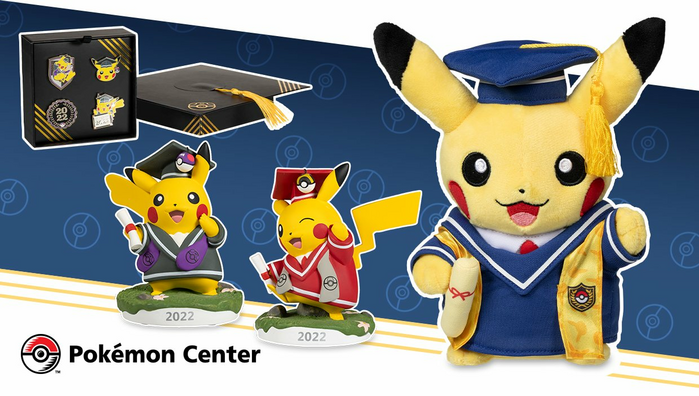 Celebrate your 2022 graduates with commemorative Pokémon plush, pins, and more! The Pokémon Center has added a the Graduation Pikachu Collection 2022 line to the store.
2022 Graduation Pikachu Arrives at the Pokémon Center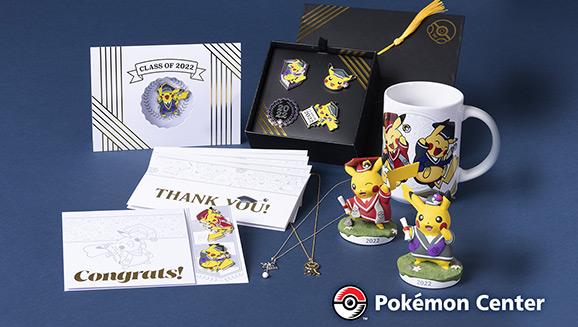 The Pokémon Center offers an education in how to party—with everything you need to fête your graduate.
Pikachu and the Pokémon Center offer a master class in celebrating the graduate in your life with the Graduation Pikachu 2022 line. Whether you're a graduate looking for a well-earned treat after all your hard work or want to express your pride in the scholar in your life, the Pokémon Center has you covered.
Pin your hopes on the future with festive pins featuring Pikachu in a jaunty cap and gown. Or, if you're looking for a larger Pokémon graduation buddy, give the gift of Pikachu with a sculpted figure or Poké Plush that's proudly bedecked in its graduation finest. Looking for something stylish but a little more subtle? Wear your achievement everywhere you go with tasteful graduation pendant necklaces.
On a more practical but equally thoughtful note, keep your graduate well hydrated with a precious Pikachu ceramic mug. And last but certainly not least, take the time to express your appreciation to everyone who's helped you along the way with elegant Thank You cards.
Party with the Pokémon Center's entire
Graduation Pikachu 2022 line
.
Source:
https://www.pokemon.com/us/pokemon-news/2022-graduation-pikachu-arrives-at-the-pokemon-center/
Graduation Pikachu Collection:
Graduation Pikachu Collection Items:
Pikachu Celebrations: Graduate Pikachu Poké Plush - 8 In. - $17.99
Pokémon Graduation Hat 2022 Sterling Silver Pendant Necklace - $89.99
Pokémon Graduation Seal 2022 18k Gold-Plated Sterling Silver Pendant Necklace - $89.99
Graduation Pikachu 2022: Pikachu (Female) Figure - $25.99
Graduation Pikachu 2022: Pikachu (Male) Figure - $25.99
Graduation Pikachu 2022 14 oz. Mug - $14.99
Graduation Pikachu 2022 Pokémon Pin Box Set (4-Pack) - $39.99
Graduation Pikachu 2022 Thank-You Cards (10-Pack) - $19.99
Graduation Pikachu 2022 Pokémon Pins & Greeting Card - $14.99
Graduation Pikachu 2022 Pokémon Pin & Greeting Card - $9.99
Source:
https://www.pokemoncenter.com/category/graduation