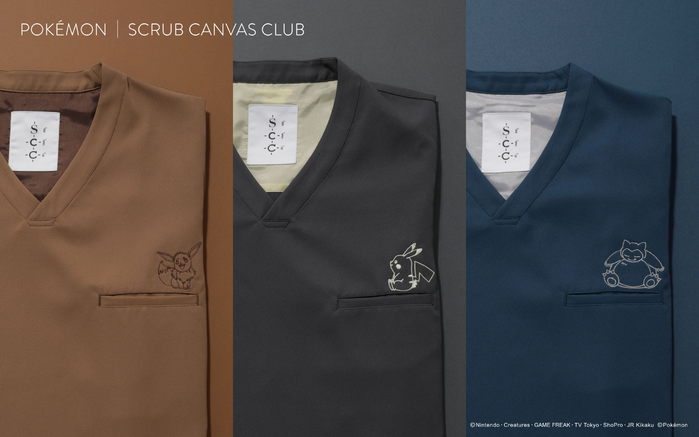 Classico, a company that plans, manufactures, and sells medical products, centering on white coats, has launched a new line of medical scrubs under the slogan
"Scrubs as a Canvas. More fun." (スクラブをキャンバスに。もっと楽しく。)
The new line of medical scrubs, "Scrub Canvas Club", is based on the concept of making scrubs more fun. The third line in the series is the Pokémon collection, a franchise loved around the world, and will be available for pre-order from May 26th, 2022.
Scrubs with Pokémon Design
Pokémon is loved by children and adults of all ages all around the world. These mysterious creatures have brought joy in finding and raising them, and have connected the hearts of people around the world, transcending national, regional, and language barriers.
The Pokémon Company's mission statement is "to enrich both the real world and the virtual world with the Pokémon characters" and we hope that these items will bring smiles to the faces of healthcare professionals and their patients.
The three Pokémon selected for this project are Pikachu, Eievui, and Kabigon. The fabrics and embroidery are in the colors of each Pokémon. They are finished in colors typical of Classico. The material of the fabric is a twill weaved with a smooth touch and a fashionable feel, and is a functional material with anti-static threads woven into the backside.
Scrub Canvas Club: Pokémon Scrub Tops
The top is a casual, active, oversized shape that can be worn by both men and women. While orthodox in design, it is also functional, with attention to stitching and embroidery on the pockets, double pockets, loops, and strap hooks on the back. Just as Pokémon travel with their trainers, they are always close by on the chest pocket of the scrubs.
When you turn up the strap hook on the back, you can see each Pokémon's name and zukan number, and a monster ball is embroidered on the left sleeve.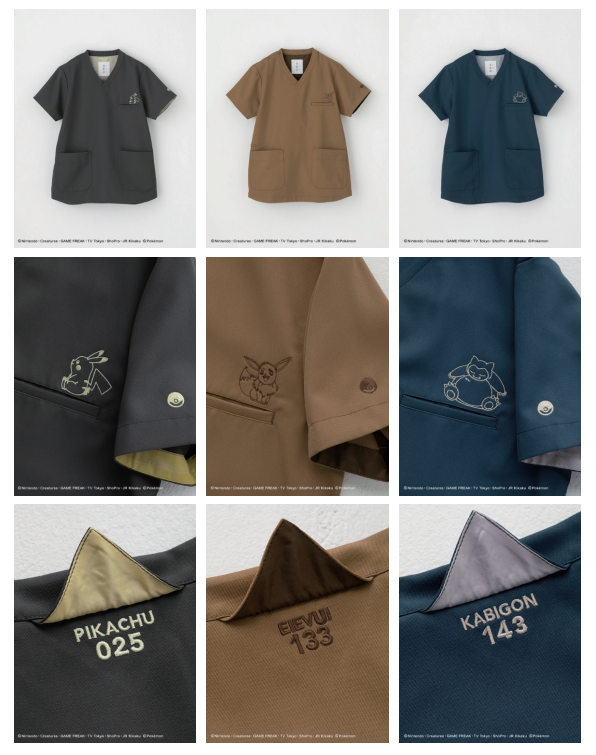 Item No.: R01
Color: Pikachu, Eievui, Kabigon
Size: XXS, XS, S, M, L, XL (unisex size)
Price: 9,680 yen including tax
Scrub Canvas Club: Pokémon Scrub Pants
Tapered pants that are loose around the waist and taper gently to the hem, making the entire leg look slimmer, making them perfect for oversized tops. The pants pockets are decorated with Pokémon and type icons. In addition to the fabric and embroidery, the piping and waistband also feature color schemes inspired by each Pokémon. Like the tops, this item can be worn by both men and women.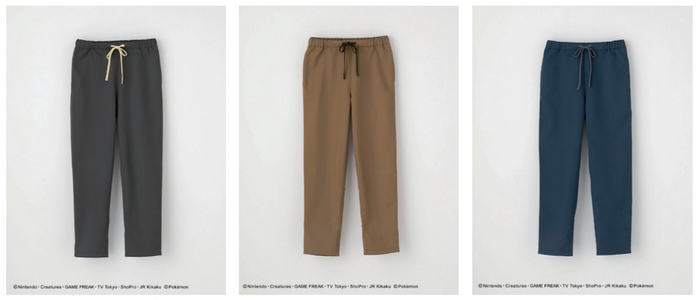 Item No.: R02
Color: Pikachu, Eievui, Kabigon
Size: XXS, XS, S, M, L, XL (unisex size)
Price : 9,680 yen including tax
Source:
https://www.clasic.jp/lp/scc_pokemon/