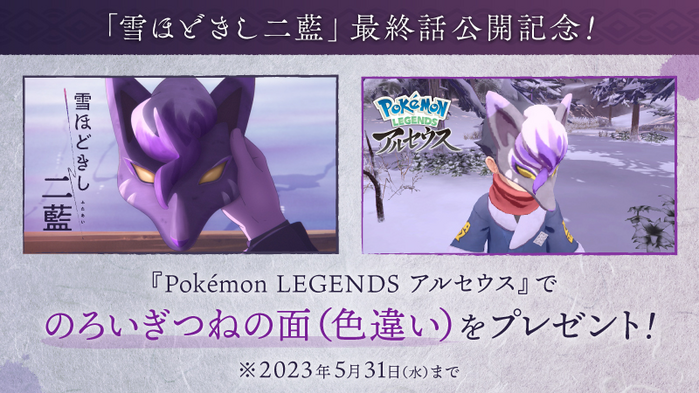 To commemorate the release of the
final episode
of the original web animation Pokémon: Hisuian Snow, the Pokémon LEGENDS Arceus game is giving away a Shiny Baneful Fox mask!
The Baneful Fox mask is a mask based on the Hisuian Zoroark. In the Pokémon: Hisuian Snow story,
Alec
met a Shiny Zoroark. The color of the masks presented to you this time is based on the color of the Shiny Hisuian Zoroark, the evolved form of Shiny Zorua. Wear this mask and enjoy your adventures in the Hisui Region!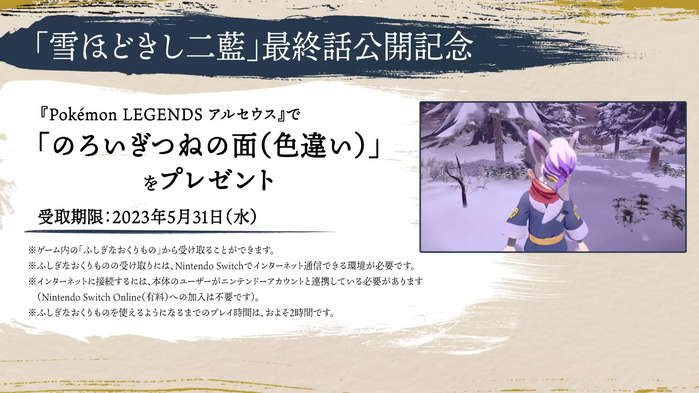 The Shiny Baneful Fox mask can be obtained by selecting "Receive via Internet" from the Mystery Gift menu in the game from June 22nd, 2022 until May 31st, 2023.
To receive the Mystery Gifts, the Nintendo Switch must be connected to the Internet. To connect to the Internet, the console must be linked to a Nintendo Account (subscription to Nintendo Switch Online (paid) is not required). It takes approximately 2 hours of play time to be able to use the Mystery Gift option.
Source:
https://www.pokemon.co.jp/ex/legends_arceus/ja/news/220622_01/