The Pokémon Center has revealed new items in the
Pokémon GO Teams Collection
merchandise line. The items from this line are available online at the Pokémon Center.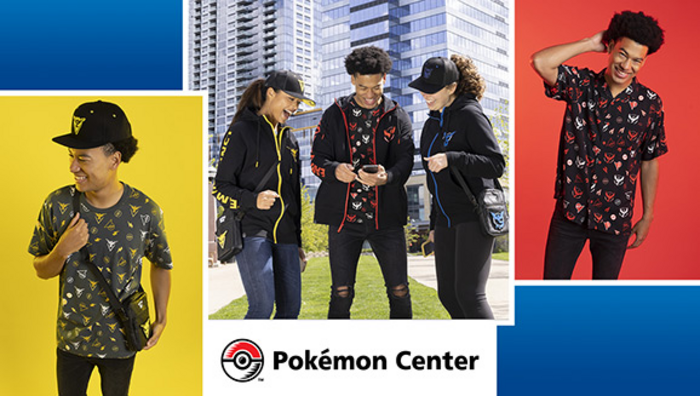 Get Pokémon GO Team Shirts, Hats, Hoodies, and Bags at the Pokémon Center
Support your favorite team with a variety of stylish clothing and accessories from the Pokémon GO Teams Collection.
Show your Pokémon GO Team spirit with this new selection of apparel, accessories, and more in the Pokémon GO Teams Collection at the Pokémon Center. Whether you rep Team Mystic, Team Valor, or Team Instinct, you'll find the gear you need in the look that suits you best. This collection contains a wide range of shirts in various styles featuring the Pokémon GO logo—along with the emblem of your chosen team. Zip-up hoodies are available to keep you warm while you're taking on Raid Battles, and you can top off your ensemble with a stylish team hat. Crossbody bags emblazoned with the teams' logos are great for stashing gear and supplies while you're out exploring.
Source:
https://www.pokemon.com/us/pokemon-news/get-pokemon-go-team-shirts-hats-hoodies-and-bags-at-the-pokemon-center/
Items:
Items List:
Team Instinct Pokémon GO Teams Tropical Shirt - Adult - $49.99
Team Instinct Pokémon GO Teams Zip-Up Hoodie - Adult - $49.99
Team Instinct, Team Mystic & Team Valor Pokémon GO Teams Tropical Shirt - Adult - $49.99
Team Valor Pokémon GO Teams Tropical Shirt - Adult - $49.99
Team Mystic Pokémon GO Teams Tropical Shirt - Adult - $49.99
Team Valor Pokémon GO Teams Zip-Up Hoodie - Adult - $49.99
Team Mystic Pokémon GO Teams Zip-Up Hoodie - Adult - $49.99
Team Valor Pokémon GO Teams Relaxed Fit Crew Neck T-Shirt - Adult - $24.99
Team Valor Pokémon GO Teams Curved-Brim Hat (One Size-Adult) - $24.99
Team Instinct Pokémon GO Teams Flat-Brim Hat (One Size-Adult) - $24.99
Team Instinct Pokémon GO Teams Crossbody Bag - $24.99
Team Mystic Pokémon GO Teams Crossbody Bag - $24.99
Team Instinct Pokémon GO Teams Curved-Brim Hat (One Size-Adult) - $24.99
Team Instinct Pokémon GO Teams Relaxed Fit Crew Neck T-Shirt - Adult - $24.99
Team Valor Pokémon GO Teams Allover-Print Relaxed Fit Crew Neck T-Shirt - Adult - $24.99
Team Valor Pokémon GO Teams Flat-Brim Hat (One Size-Adult) - $24.99
Team Mystic Pokémon GO Teams Flat-Brim Hat (One Size-Adult) - $24.99
Team Instinct Pokémon GO Teams Allover-Print Relaxed Fit Crew Neck T-Shirt - Adult - $24.99
Team Mystic Pokémon GO Teams Curved-Brim Hat (One Size-Adult) - $24.99
Team Instinct, Team Mystic & Team Valor Pokémon GO Teams Relaxed Fit Crew Neck T-Shirt - Adult - $24.99
Team Valor Pokémon GO Teams Crossbody Bag - $24.99
Team Mystic Pokémon GO Teams Relaxed Fit Crew Neck T-Shirt - Adult - $24.99
Team Mystic Pokémon GO Teams Allover-Print Relaxed Fit Crew Neck T-Shirt - Adult - $24.99
Source:
https://www.pokemoncenter.com/category/pokemon-go-teams-collection