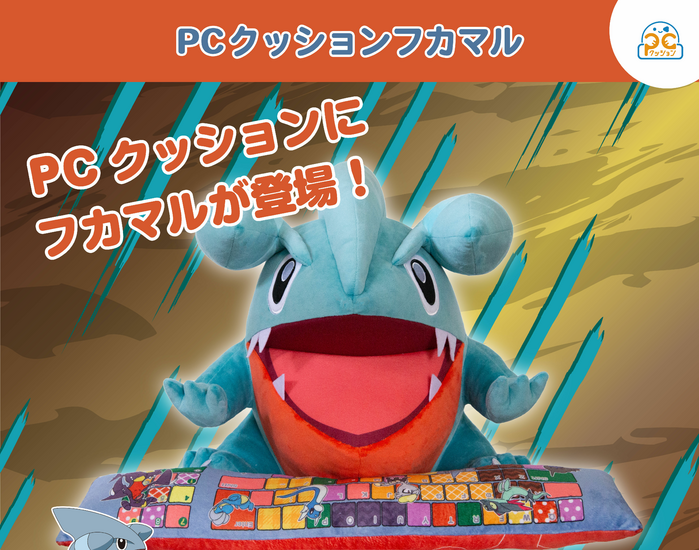 A
PC Cushion Fukamaru (PCクッション フカマル)
is available to pre-order on PREMIUM BANDAI from June 24th, 2022 at 11:00am until July 15, 2022 at 23:00 JST for 6,380 yen (tax included). The item will be delivered in Japan in October 2022.
High resolution pictures of this product have been added to an Imageboard thread
.
PC Cushion Fukamaru (PCクッション フカマル)
This is a PC cushion featuring the Pokémon Fukamaru from Pokémon Diamond and Pearl. The set includes a plush cushion and armrest, ideal for long hours of computer work at the office or at home. The armrest is removable, so you can use the cushion with armrest, the cushion alone, or the armrest alone, depending on the situation.
Fukamaru is a Dragon-type Pokémon but its wide-mouthed appearance has a cuteness that cannot be ignored. Just looking at it in your room is soothing, and by working with it, you can comfortably work on your computer or desk while being soothed.
Product Details:
Price:
6,380 yen (tax included)
Pre-orders:
June 24th, 2022 at 11:00am until July 15, 2022 23:00
Delivery Date:
Scheduled to be shipped in October 2022
Set Contents:
Plush cushion, Armrest
Size:
Width approx. 50 cm x length approx. 40 cm x depth approx. 48 cm
Production:
China
Source:
https://p-bandai.jp/item/item-1000176561/