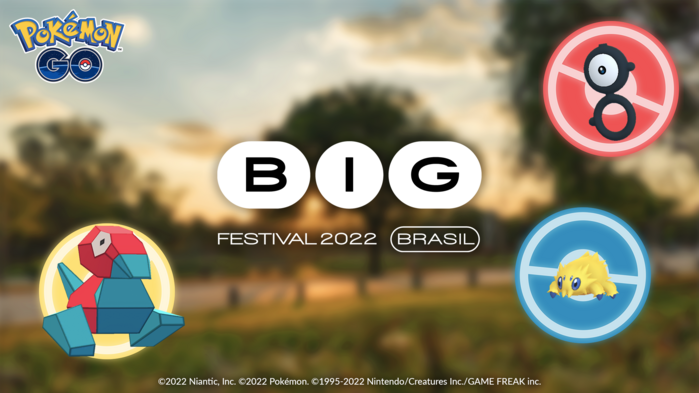 Pokémon GO at BIG Festival 2022!
Trainers,
We are very happy to announce that Pokémon GO will be part of BIG Festival 2022! O BIG is the largest games festival in Latin America and this year it is returning with an in-person event at the São Paulo Expo Convention Center, in São Paulo, Brazil.
Pokémon GO Trainers attending any of the 4 days of BIG Festival will get to enjoy an in-game event, featuring special bonuses and access to exclusive Field Research!
Starting today we are offering a special discount for Pokémon GO Trainers in partnership with BIG: when you buy your tickets on the official website, you will receive a 20% discount when you apply the code NIANTICBIG22 at check out. These coupons will only be valid while stocks last, limited to one per person, on
BIG's official ticket site
.
Pokémon GO Special Event at BIG Festival 2022
From Thursday, July 7 to Sunday, July 10, 2022, from 10am to 10pm local time.
This event will be active only at the São Paulo Expo Convention Center, during BIG Festival 2022, at 1.5 Rod dos Imigrantes - Vila Água Funda, 04329-900 - São Paulo, Brazil.
PokéStop
Multiple PokéStop and Sponsored Gyms will be added throughout the BIG Festival 2022 area.
Pokémon Lures active during the event in the BIG Festival area will last for 6 hours.
When spinning PokéStops at BIG Festival 2022, Trainers will receive an exclusive Field Research that will reward special encounters with Pokémon from the Event.
Exclusive Field Research
The following Pokémon will be available as rewards from Field Research during BIG Festival 2022:

Porygon
, Unown B, Unown I, Unown G, Joltik
Source:
https://pokemongolive.com/pt_br/post/big-festival-2022/