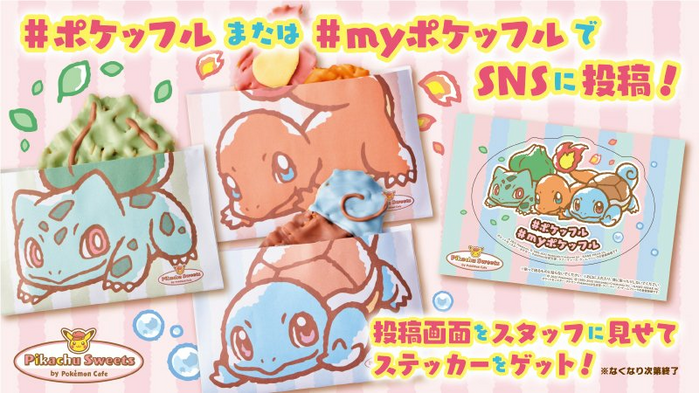 On Saturday, July 9th, 2022. Pikachu Sweets by Pokémon Café's popular Pokémon waffle, Pokéffle, will be joined by Fushigidane, Hitokage, and Zenigame. Mousse, which is recommended for take-out, will feature Pikachu and Ghost-type Pokémon!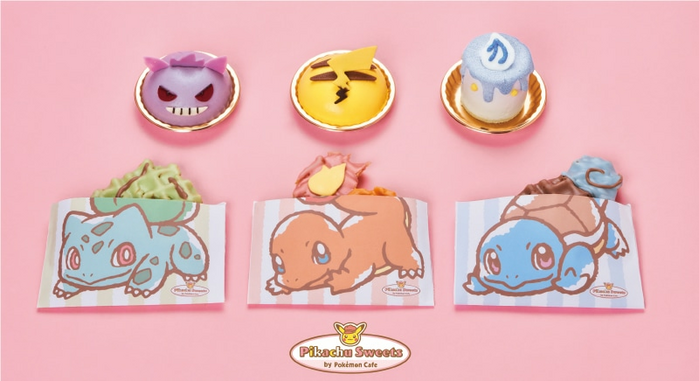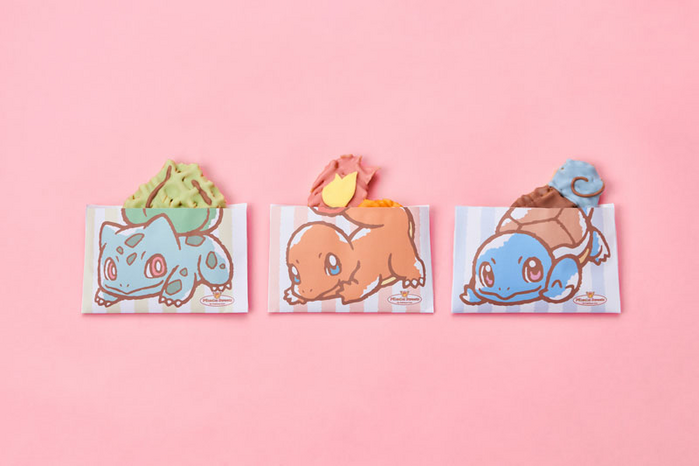 Pikachu Sweets Pokéffle Fushigidane / Hitokage / Zenigame - 550 yen each (tax included)
ピカチュウスイーツじるしのポケッフル ~フシギダネ~/~ヒトカゲ~/~ゼニガメ~各550円(税込)
Choose your adventure partner! Pokéffles that express the characteristics of these Pokémon are now in waffle form. Fushigidane's Pokéffle seems to have a Sweet Scent coming from the seeds on its back......? It's a refreshing chocolate and pistachio flavor!
Hitokage's Pokéffle is chocolate and orange flavored, which looks like it is having fun with its flickering flame while bathing in the sun of a Sunny Day!
Zenigame's Pokéffle is Chocolate & Salted Vanilla flavor! Maybe you'll be able to feel a little bit of its Whirlpool?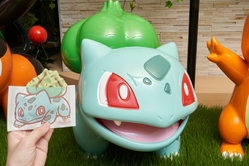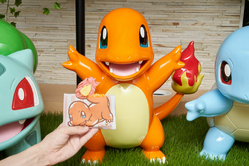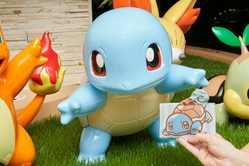 Be sure to take a picture of your Pokéffle in front of the Pokémon statues in the square in front of the Pikachu Sweets store!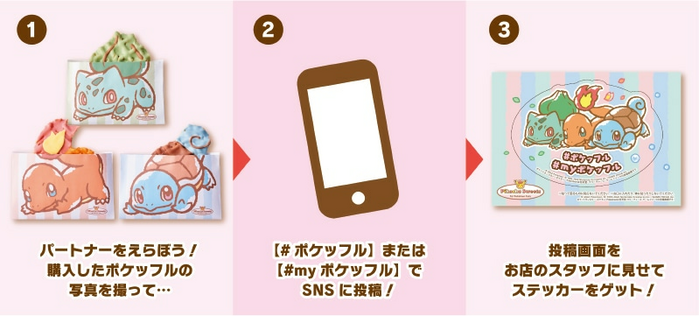 If you take a photo with your adventure partner, post it on SNS with the hashtag myPokéffle "#myポケッフル"! Show the screen of your post to a staff member and you will get an original sticker! *The sticker distribution will end as soon as they are all given out.
Pocket Monsters Red, Green, and Blue, feature Fushigidane, Hitokage, and Zenigame, and were the first games in the Pokémon series to be released. The latest games, Pokémon Scarlet and Violet, are scheduled for release on Friday, November 18th, 2022! Be sure to look forward to meeting new adventure partners.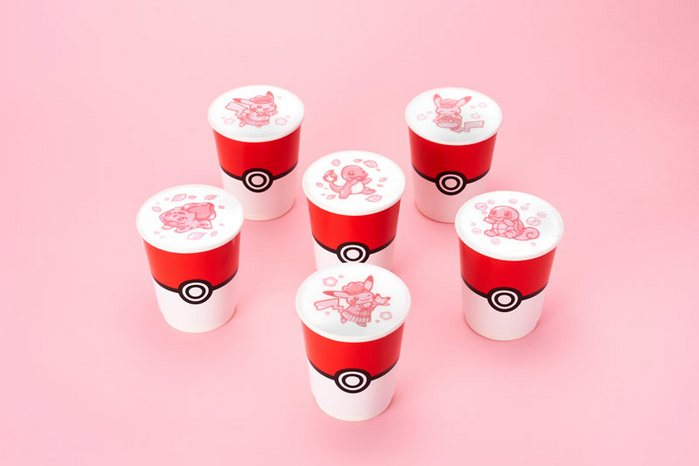 Get Latte / Get Latte Tea Latte 605 yen each (tax included)
Get Latte Cafe Mocha / Caramel / White Mocha 638 yen each (tax included)
ゲットラテ/ゲットラテ ティーラテ 各605円(税込)
ゲットラテ カフェモカ/キャラメル/ホワイトモカ 各638円(税込)
Fushigidane, Hitokage, and Zenigame are new additions to the patterns of the Get Latte regular menu item! There are 7 patterns in total. One of them is a very rare secret pattern. Patterns are chosen at random.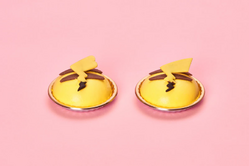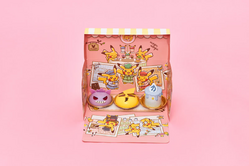 Pikachu's Tropical Mousse / Gangar's Grape Mousse / Hitomoshi's Rare Cheese Mousse 715 yen each (tax included) Pikachu and Ghost-Type Chilly Mousse Box 2,145 yen (tax included)
ピカチュウのトロピカムース/ゲンガーのグレープムース/ヒトモシのレアチーズムース 各715円(税込)
ピカチュウとゴーストタイプのひんやりムースボックス 2,145円(税込)
Pikachu Sweets' popular mousse is now available as a reissued menu item! Gengar and Hitomoshi have brought their friend Pikachu. You can choose between a male Pikachu or a female Pikachu! Pikachu comes in tropical fruit flavor, Gengar comes in grape flavor, and Hitomoshi comes in a rare cheese flavor. Artwork that looks exactly like the menu items is hidden inside the restaurant, so look out for it!
Source:
https://www.pokemoncenter-online.com/cafe/news/220624_01.html