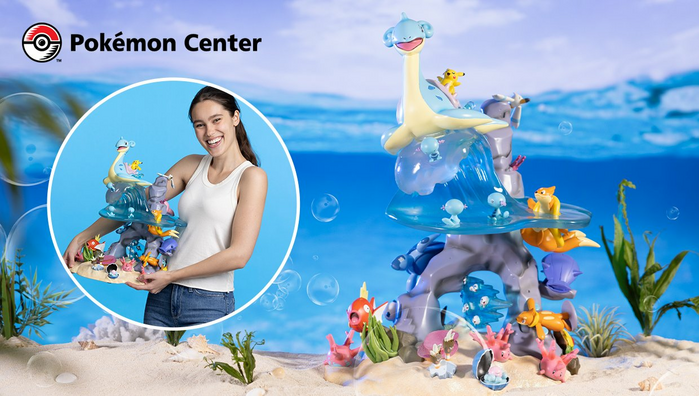 Ride the ocean waves with Water-type pals! The Ocean of Friendship figure, featuring Pikachu surfing a wave on the back of Lapras and many other Pokémon having a splash of fun, is available at the Pokémon Center for $349.99USD/£279.99/$454.99CAD.
High resolution pictures of the figure have been added to an Imageboard thread
.
Ride the Ocean Waves with Water-Type Pals!
Jump in for a splash of fun with Pikachu, Lapras, and many more Water-type Pokémon on this colorful Ocean of Friendship figure! Pikachu is surfing the waves on Lapras's back, while many other Pokémon are having fun in their own individual ways. The figure showcases two different scenes split up between the top of the water and the ocean underneath. With more than 15 different Pokémon featured on the figure, it's sure to be a fun conversation starter to place on your bookshelf or desk. See if you can find them all!
Large figure stands about 19 inches tall
More than 15 different species of Pokémon present
Each figure is delicately hand-painted to highlight the details in the scene; natural variations in paint may occur
Pokémon Center Original
Item Dimensions: 15.2 x 11.8 x 19.1 IN
Country Of Origin: Made in China
Materials: Resin
Item Weight: 247 OZ
SKU: 703-29965
Sources:
https://www.pokemoncenter.com/product/703-29965/ocean-of-friendship-figure