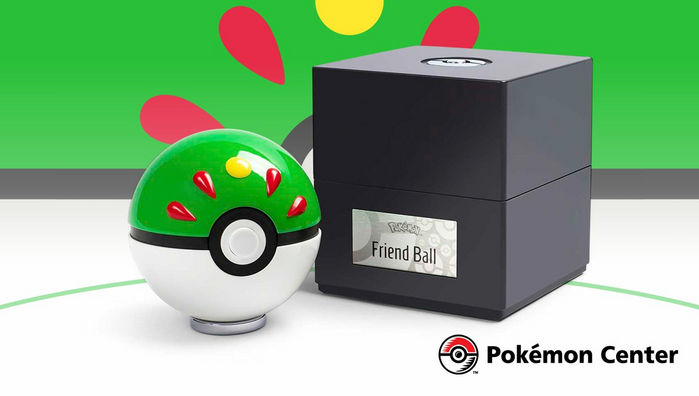 Celebrate International Friendship Day early with the Friend Ball. The latest entry in The Wand Company's series of Poké Ball replicas is available now at the Pokémon Center for $99.99USD/$129.99CAD.
Friend Ball by The Wand Company
An Accurate, Detailed Die-Cast Replica
First introduced in the Pokémon Gold and Pokémon Silver video games, the Friend Ball's top half is green with red highlights and a yellow dot at the top; it's one of many Poké Balls made by Kurt using Apricorns! Pokémon caught in this Ball become friendlier toward their Trainers. Now this useful item can be yours with this premium-quality replica from The Wand Company. Featuring touch- and proximity-sensing technology, the front button illuminates in response to nearby motion and becomes brighter when the Poké Ball is touched. For an extra touch of interactivity, pressing the button initiates a Pokémon-catching light sequence. This die-cast metal replica comes with an illuminated display case featuring the Pokémon logo, along with a display ring that lets you show off the Poké Ball on its own.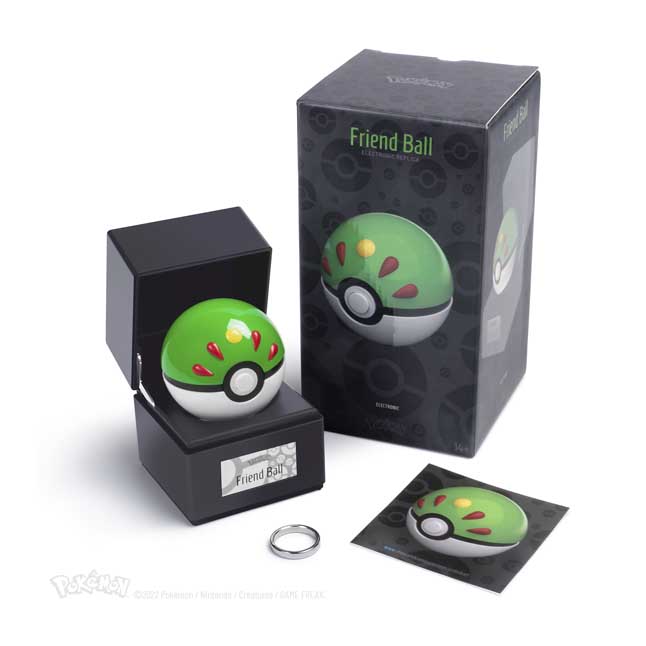 Product Details:
Includes Friend Ball, black display case, polished stainless steel display ring (hidden in the bottom of the display case), illustrated manual, 3 AA batteries installed in the display case, and 3 AAA batteries installed inside the Poké Ball
Friend Ball measures nearly 3 inches (75 mm) in diameter—based on its actual size within the world of Pokémon
Detailed, die-cast metal shell with a high-gloss lacquer finish
Touch- and proximity-sensing technology with illumination
Can be displayed in the presentation display case or separately on the included display ring
Officially licensed by The Pokémon Company International and made by The Wand Company
Item Dimensions: 3.5 x 3.7 x 3.5 IN
Country Of Origin: Made in China
Materials: Plastic / metal / electronics
Care Instructions: Wipe clean with dry cloth.
Item Weight: 1.3 LB
SKU: 710-95849
Source:
https://www.pokemoncenter.com/product/710-95849/friend-ball-by-the-wand-company