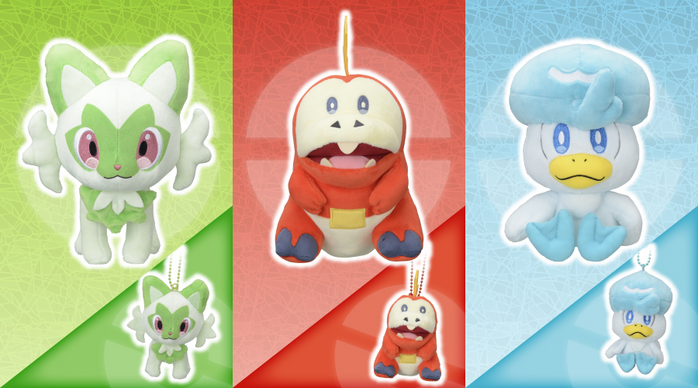 On Thursday, August 4th, 2022, plushies and mascots will be available at all Pokémon Centers and Pokémon Stores in advance of the release of Pokémon Scarlet and Violet for Nintendo Switch! The three Pokémon that will be available are three new traveling partners. They are Nyahoja, the Grass Cat Pokémon, Hogator, the Fire Croc Pokémon, and Kuwassu, the Duckling Pokémon. Let's enjoy the feeling of adventure together with these three Pokémon with rich personalities! Also on August 4th, 2022, pre-orders for the Nintendo Switch games Pokémon Scarlet and Violet will start.
Please note that the release of this product may be postponed or cancelled due to the situation in the production area and stores. Please be aware of this beforehand.
At the Amazon.co.jp Pokémon Store, pre-orders for these plushies will be starting on August 4th, 2022 and sales starting on August 16th, 2022 but due to the limited number of products available, they may be sold during the pre-order period.
Plushies
Items List (English):
Plushie Nyahoja - 2200 yen
Plushie Hogator - 2200 yen
Plushie Kuwassu - 2200 yen
Mascot Nyahoja - 1,210 yen
Mascot Hogator - 1,210 yen
Mascot Kuwassu - 1,210 yen
Items List (Japanese):
ぬいぐるみ ニャオハ 2,200円
ぬいぐるみ ホゲータ 2,200円
ぬいぐるみ クワッス 2,200円
マスコット ニャオハ 1,210円
マスコット ホゲータ 1,210円
マスコット クワッス 1,210円
Source:
https://www.pokemon.co.jp/goods/2022/07/220729_to01.html