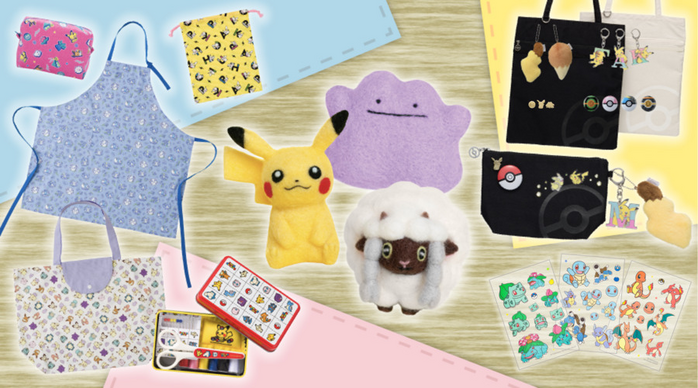 On Saturday, August 20th, 2022, a variety of handmade items for your enjoyment will be available at the Pokémon Center! The lineup includes kits for making Needle Felt Pikachu, Metamon, and Wooluu, as well as cut cloth and "irodo" stickers for fabric! There are also tote bags and pouches with Monster Ball designs that can be customized with pins and badges, so be sure to try making your own original goods by hand. The Pokémon Center Online will start carrying this line of items starting on August 18th, 2022 at 10:00 a.m.!
Please note that the release of this product may be postponed or cancelled due to the situation in the production area and stores. Please be aware of this beforehand.
At the Amazon.co.jp Pokémon Store, pre-orders for items with a (★) will be begin on August 20th, 2022 and sales starting on August 27th, 2022 but due to the limited number of products available, they may be sold during the pre-order period.
Items:
Items List (English):
Can Sewing Set Pokémon Dolls - 2,310 yen (★)
Cut Cloth Transform! Metamon - 1,760 yen (★)
Cut Cloth Eievui Collection - 1,760 yen (★)
Cut Cloth Ghost Pattern - 1,760 yen (★)
Cut Cloth Pokémon Dolls - 1,760 yen (★)
Cut Cloth MIMOSA e POKÉMON - 1,760 yen (★)
Cut Cloth Baby Blue Eyes - 1,760 yen (★)
Cut Cloth Soda Pop - 1,760 yen (★)
Cut Cloth PIKAPIKACHU - 1,760 yen (★)
Pin Monster Ball - 550 yen
Pin Pikachu Back View - 550 yen
Pin Metamon - 550 yen
Needle Felt PIKAPIKACHU - 1,430 yen (★)
Needle Felt Metamon - 1,320 yen (★)
Needle Felt Wooluu - 1,430 yen (★)
Cloth Sticker irodo Fushigidane & Fushigisou & Fushigibana - 495 yen (★)
Cloth Sticker irodo Hitokage & Lizardo & Lizardon - 495 yen (★)
Cloth Sticker irodo Zenigame & Kameil & Kamex - 495 yen (★)
Cloth Sticker irodo Pichu & Pikachu & Raichu 880 yen (★)
Cloth Sticker irodo Eievui & Showers & Thunders & Booster - 880 yen (★)
Cloth Sticker irodo Eifie & Blacky & Leafia & Glacia & Nymphia - 880 yen (★)
Cloth Sticker irodo Koduck & Golduck - 495 yen (★)
Cloth Sticker irodo Yadon & Yadoran & Yadoking - 495 yen (★)
Cloth Sticker irodo Gonbe & Kabigon - 495 yen (★)
Cloth Sticker irodo Ghos & Ghost & Gangar - 495 yen (★)
Cloth Sticker irodo Unknown - 880 yen (★)
Cloth Sticker irodo Metamon - 495 yen (★)
Cloth Sticker irodo Riolu & Lucario - 495 yen (★)
Cloth Sticker irodo Mimikyu - 495 yen (★)
Cloth Sticker irodo Sarunori & Bachinkey & Gorirander - 495 yen (★)
Cloth Sticker irodo Hibanny & Rabbifuto & Aceburn - 495 yen (★)
Cloth Sticker irodo Messon & Jimereon & Inteleon - 495 yen (★)
Cloth Sticker irodo Wanpachi & Pulsewan - 495 yen (★)
Cloth Sticker irodo Monster Ball - 495 yen (★)
Custom Tote Bag Black - 2,200 yen (★)
Custom Tote Bag Unbleached - 2,200 yen (★)
Custom Coin & Pass Case Black - 1,540 yen (★)
Custom Pouch Black - 1,430 yen (★)
Can Badge Monster Ball - 330 yen
Can Badge Premier Ball - 330 yen
Can Badge Master Ball - 330 yen
Can Badge Dark Ball - 330 yen
Can Badge Love Ball - 330 yen
Can Badge Moon Ball - 330 yen
Can Badge Gorgeous Ball - 330 yen
Tail Charm Pikachu - 660 yen (★)
Tail Charm Eievui - 660 yen (★)
Alphabet Keychain Pikachu A - 660 yen (★)
Alphabet Keychain Pikachu C - 660 yen (★)
Alphabet Keychain Pikachu H - 660 yen (★)
Alphabet Keychain Pikachu K - 660 yen (★)
Alphabet Keychain Pikachu M - 660 yen (★)
Alphabet Keychain Pikachu N - 660 yen (★)
Alphabet Keychain Pikachu R - 660 yen (★)
Alphabet Keychain Pikachu S - 660 yen (★)
Alphabet Keychain Pikachu T - 660 yen (★)
Alphabet Keychain Pikachu Y - 660 yen (★)
Items List (Japanese):
缶入りソーイングセット ポケモンドールズ 2,310円(★)
カットクロス へんしん!メタモン 1,760円(★)
カットクロス Eievui Collection 1,760円(★)
カットクロス ゴーストパターン 1,760円(★)
カットクロス ポケモンドールズ 1,760円(★)
カットクロス MIMOSA e POKÉMON 1,760円(★)
カットクロス Baby Blue Eyes 1,760円(★)
カットクロス サイコソーダ 1,760円(★)
カットクロス PIKAPIKACHU 1,760円(★)
ピンズ モンスターボール 550円
ピンズ ピカチュウ 後ろ姿 550円
ピンズ メタモン 550円
ニードルフェルトでつくる ピカチュウ 1,430円(★)
ニードルフェルトでつくる メタモン 1,320円(★)
ニードルフェルトでつくる ウールー 1,430円(★)
布用ステッカーirodo フシギダネ&フシギソウ&フシギバナ 495円(★)
布用ステッカーirodo ヒトカゲ&リザード&リザードン 495円(★)
布用ステッカーirodo ゼニガメ&カメール&カメックス 495円(★)
布用ステッカーirodo ピチュー&ピカチュウ&ライチュウ 880円(★)
布用ステッカーirodo イーブイ&シャワーズ&サンダース&ブースター 880円(★)
布用ステッカーirodo エーフィ&ブラッキー&リーフィア&グレイシア&ニンフィア 880円(★)
布用ステッカーirodo コダック&ゴルダック 495円(★)
布用ステッカーirodo ヤドン&ヤドラン&ヤドキング 495円(★)
布用ステッカーirodo ゴンベ&カビゴン 495円(★)
布用ステッカーirodo ゴース&ゴースト&ゲンガー 495円(★)
布用ステッカーirodo アンノーン 880円(★)
布用ステッカーirodo メタモン 495円(★)
布用ステッカーirodo リオル&ルカリオ 495円(★)
布用ステッカーirodo ミミッキュ 495円(★)
布用ステッカーirodo サルノリ&バチンキー&ゴリランダー 495円(★)
布用ステッカーirodo ヒバニー&ラビフット&エースバーン 495円(★)
布用ステッカーirodo メッソン&ジメレオン&インテレオン 495円(★)
布用ステッカーirodo ワンパチ&パルスワン 495円(★)
布用ステッカーirodo モンスターボール 495円(★)
カスタムトートバッグ ブラック 2,200円(★)
カスタムトートバッグ キナリ 2,200円(★)
カスタムコイン&パスケース ブラック 1,540円(★)
カスタムポーチ ブラック 1,430円(★)
缶バッジ モンスターボール 330円
缶バッジ プレミアボール 330円
缶バッジ マスターボール 330円
缶バッジ ダークボール 330円
缶バッジ ラブラブボール 330円
缶バッジ ムーンボール 330円
缶バッジ ゴージャスボール 330円
しっぽチャーム ピカチュウ 660円(★)
しっぽチャーム イーブイ 660円(★)
アルファベットキーホルダー ピカチュウ A 660円(★)
アルファベットキーホルダー ピカチュウ C 660円(★)
アルファベットキーホルダー ピカチュウ H 660円(★)
アルファベットキーホルダー ピカチュウ K 660円(★)
アルファベットキーホルダー ピカチュウ M 660円(★)
アルファベットキーホルダー ピカチュウ N 660円(★)
アルファベットキーホルダー ピカチュウ R 660円(★)
アルファベットキーホルダー ピカチュウ S 660円(★)
アルファベットキーホルダー ピカチュウ T 660円(★)
アルファベットキーホルダー ピカチュウ Y 660円(★)
Source:
https://www.pokemon.co.jp/goods/2022/08/220805_go01.html