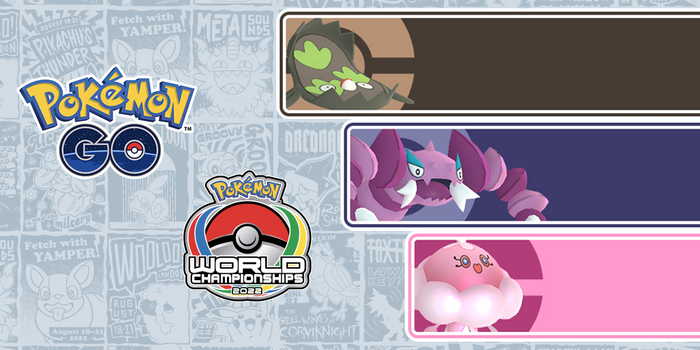 Announced Codes - August 18th, 2022:
TTYKCVDLP7K5C
WRGUZRVKRR2M3
R3YJVKBDH5RUH
NSNATBHDNNTDU
DESQFCLP4CDPP
947F4SY9LHBS7
P7Y2G5M3SJF44
VVRBFQV7S4BQP
4YW5Z4EB6RV8U
Note:
These codes expired 1 hour after their announcement and can be
redeemed at Niantic's website
.
Exclusive Timed Research during the Pokémon GO World Championships Twitch broadcast!
Trainers,
We're excited to share how we're celebrating the Pokémon GO World Championships—coming soon!
A Timed Research code via the Pokémon GO Twitch stream
In addition to all the festivities planned in Pokémon GO and live at the ExCel London center, exclusive time-limited codes will be shared periodically in the Pokémon GO Twitch chat while the Pokémon GO World Championships stream is live! Start watching at any of the following times and keep an eye out for a code!
The Pokémon GO Twitch stream start times are below:
Thursday, August 18, 2022, at 7:30 a.m. UTC
Friday, August 19, 2022, at 7:45 a.m. UTC
Saturday, August 20, 2022, at 7:45 a.m. UTC
Team Building Timed Research
Trainers who redeem the code from the Twitch stream will obtain an exclusive Timed Research* that will provide Trainers with an introduction to battling plus a choice of Pokémon encounters for them to craft a competitive Great League team!
Trainers will have a choice between the following encounter rewards:
Team Option 1:
Ariados, Pelipper, Galarian Stunfisk
Team Option 2:
Skarmory
, Swampert, Drapion
Team Option 3:
Talonflame, Venusaur
, Jellicent
: If you're lucky, you might encounter a Shiny one!
How to obtain and redeem a code
Look out for a code that's shared via the Pokémon GO Twitch chat throughout the Pokémon GO World Championships streams.*
Redeem the code quickly before it expires—refer to the help center article to learn more about how to redeem codes.
*These codes will only be redeemable for one hour after they are shared, so please try to redeem a code as quickly as possible. If you are not able to redeem one in time, there will be multiple opportunities to receive a code throughout the broadcast. The Timed Research is the same for all codes and can only be redeemed once.
Source:
https://pokemongolive.com/post/world-championship-twitch-timed-research-2022