The Pokémon Company and Takara Tomy have announced a new line of goods called
Pokémon Peaceful Place
. The lineup features plushies, mascots, LINE stickers, shared house modules and other miscellaneous items. The Pokémon Peaceful Place line will go on sale in October 2022.
High resolution pictures of the PokéPeace House have been added to an Imageboard thread
.
What is a PokéPeace?
Somewhere in the world, in a small town,
There is a shared house where Pokémon and humans meet.
Life here is laid-back, and carefree.
Everyone takes a nap, or has a party on special occasions.
The "peaceful" life of Pokémon.
Why don't you take a peek?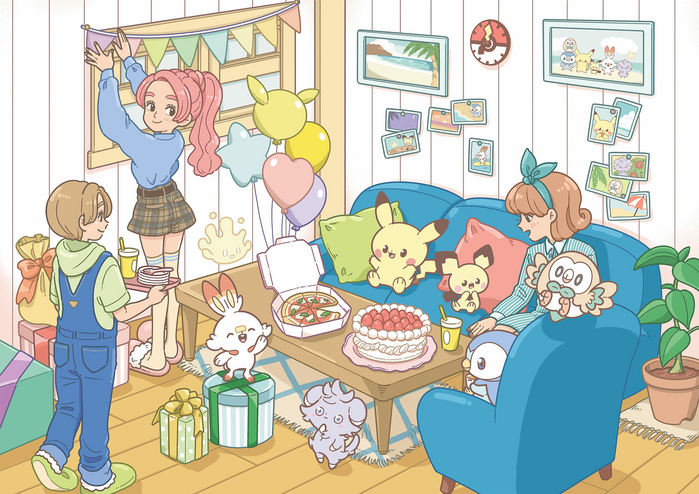 Pikachu
A serious, hard-working Pokémon who is always at the center of everyone's attention. It is happy when everyone is having fun. But lately, it feels that it likes to spend time alone. If it tries too hard, it sometimes loses its charge.
Pochama
The self-proclaimed king of the shared house. It is proud and competitive. But it is also a bit of a klutz, and is a beloved character that you can't help but admire. It is a glutton and eats a lot.
Hibanny
Energy explosion! Always full of energy, it is the mood maker of the shared house! It is interested in many things and is always running around. Recently, it seems to be into dancing. It is always ready to pose for the camera.
Mokuroh
The most laid-back Pokémon in the shared house. It usually sleeps during the daytime, but wakes up when it feels like having fun. It seems to feel at home in a small quiet space. It watches everyone very closely.
Nyasper
It has a mysterious personality. It is very fashionable, so checking its fur in the morning is part of its daily routine. When she is thinking, it has a habit of speaking out. When it thinks too much, it sometimes overflows with psycho power...!
Pichu
It is a hard worker who wants to quickly grow up. As the youngest child in the shared house, it is loved by everyone. It tries its hand at many things, but it still can't seem to get things right. When it gets excited, it sometimes gets shocked from its own electricity.
Mahomil
It was born from the sweet smell of the kitchen. Fluffy and twirling around, it has a smiling face and a good fragrance. Mahomil is the reason why the shared house is filled with a friendly atmosphere. Sometimes, you can find it hiding in the goodie case.
YouTube Clip - PokéPeace
Source:
https://www.youtube.com/watch?v=PJwaMCX02gE
GOODS

Item List (English):
PokéPeace Plush Pikachu - 2,750 yen
PokéPeace Plush Pochama - 2,750 yen
PokéPeace Plush Hibanny - 2,750 yen
PokéPeace Plush Mokuroh - 1,980 yen
PokéPeace Plush Nyasper - 2,750 yen
PokéPeace Plush Pichu - 1,980 yen
PokéPeace Plush Mahomil - 1,430 yen
PokéPeace Plush Ball Chain Mascot Pikachu - 1,650 yen
PokéPeace Plush Ball Chain Mascot Pochama - 1,650 yen
PokéPeace Plush Ball Chain Mascot Hibanny - 1,650 yen
PokéPeace Plush Ball Chain Mascot Mokuroh - 1,650 yen
PokéPeace Plush Ball Chain Mascot Nyasper - 1,650 yen
PokéPeace Plush Ball Chain Mascot Pichu - 1,650 yen
PokéPeace Plush Ball Chain Mascot Mahomil - 1,100 yen
Pokémon PokéPeace House Living Room Pikachu & Pichu - 3,000 yen
Pokémon PokéPeace House Bathroom Pochama & Mokuroh - 3,000 yen
Pokémon PokéPeace House Kitchen Mahomil & Pikachu - 3,000 yen
Pokémon PokéPeace House Lounge Hibanny & Nyasper - 3,000 yen
Pokémon PokéPeace MY PAD Tablet - 17,600 yen
PokéPeace Felt Sewing Machine - 7,678 yen
PokéPeace Felt Sewing Machine Set - 2,640 yen
Millefi Charm Shot PokéPeace - 3,300 yen
Millefi Charm Shot PokéPeace Set - 1,320 yen
Item List (Japanese):
ポケピース ぬいぐるみ ピカチュウ 2,750円(税込)
ポケピース ぬいぐるみ ポッチャマ 2,750円(税込)
ポケピース ぬいぐるみ ヒバニー 2,750円(税込)
ポケピース ぬいぐるみ モクロー 1,980円(税込)
ポケピース ぬいぐるみ ニャスパー 2,750円(税込)
ポケピース ぬいぐるみ ピチュー 1,980円(税込)
ポケピース ぬいぐるみ マホミル 1,430円(税込)
ポケピース ぬいぐるみ ボールチェーンマスコット ピカチュウ 1,650円(税込)
ポケピース ぬいぐるみ ボールチェーンマスコット ポッチャマ 1,650円(税込)
ポケピース ぬいぐるみ ボールチェーンマスコット ヒバニー 1,650円(税込)
ポケピース ぬいぐるみ ボールチェーンマスコット モクロー 1,650円(税込)
ポケピース ぬいぐるみ ボールチェーンマスコット ニャスパー 1,650円(税込)
ポケピース ぬいぐるみ ボールチェーンマスコット ピチュー 1,650円(税込)
ポケピース ぬいぐるみ ボールチェーンマスコット/マホミル 1,100円(税込)
ポケモン ポケピースハウス リビング ピカチュウ&ピチュー 3,000円(税込)
ポケモン ポケピースハウス バスルーム ポッチャマ&モクロー 3,000円(税込)
ポケモン ポケピースハウス キッチン マホミル&ピカチュウ 3,000円(税込)
ポケモン ポケピースハウス ラウンジ ヒバニー&ニャスパー 3,000円(税込)
ポケモン ポケピース MY PAD(マイパット) 17,600円(税込)
フェルティミシン ポケピース 7,678円(税込)
フェルティミシン ポケピース 専用たっぷりセット 2,640円(税込)
ミルフィーチャームショット ポケピース 3,300円(税込)
ミルフィーチャームショット専用別売りセット ポケピース 1,320円(税込)
Sources:
https://www.pokemon.jp/special/pokepeace/
and
https://www.takaratomy.co.jp/products/pokemon/pokepeace/