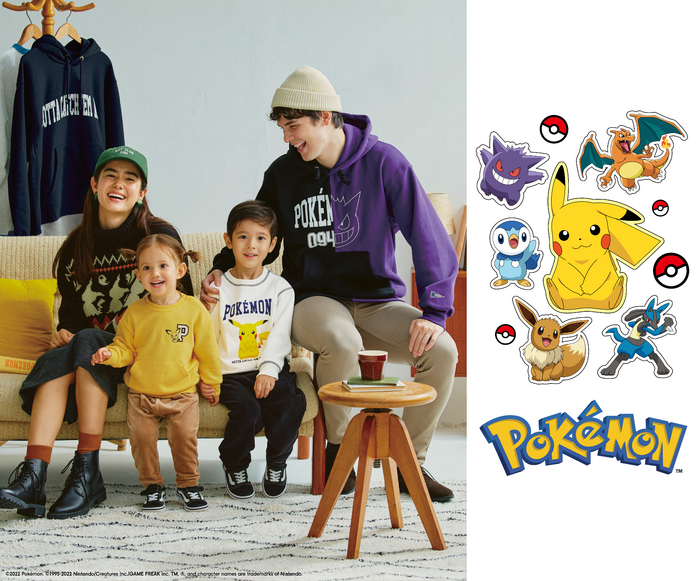 GU will launch a special collection with the world-favorite Pokémon at GU stores nationwide in Japan and at their online stores from mid-November 2022. A winter collection with Pokémon, which popular among both children and adults will be available. Under the theme of "Classic Style Collection", the collection features fashion items for both babies and adults, incorporating classical elements trending this season.
For the women's collection, Pochama and Mimikyu are designed into trendy cropped tops and soft and comfortable soft lounge sets. For men, heavyweight sweatshirts with a college look, the fashion trend of the season, and knitwear and boxer shorts with a retro design and Fair Isle pattern as a motif will be available. For kids, there are sweatshirts and knitwear with Pikachu and Pochama designs on the back, and a wide selection of items to keep them warm in the coming season. For babies, the lineup includes sweatshirts designed in conjunction with adult items that can be enjoyed by parents and children alike, making this a collection that can be enjoyed by people of all ages.
Collection Details:
Sales period: Sales will begin in mid-November 2022
Sales outlets: GU stores nationwide in Japan and online stores
Price range: 390 yen to 3,490 yen
GU Original Pochama Laundry Bag Present!
From mid-November, those who purchase two or more Pokémon items will receive a Pochama Laundry Bag on a first-come, first-served basis.
Items:
Item List (English):
Women
Turtleneck Sweater (Long Sleeve) Pokémon 1 - 2,490 yen
Turtleneck Sweater (Long Sleeve) Pokémon 2 - 2,490 yen
Cropped Graphic Sweatshirt (long sleeve) Pokémon 1 - 2,490 yen
Cropped Graphic Sweatshirt (long sleeve) Pokémon 2 - 2,490 yen
Cropped Sweatshir Pullover (Long Sleeves) Pokémon 1 - 1,990 yen
Cropped Sweatshir Pullover (Long Sleeves) Pokémon 2 - 1,990 yen
Marshmallow Feel Cardigan Set (Long Sleeve Pokémon - 3,490 yen
Room Shoes Pokémon - 1,490 yen
Pouch Pokémon - 1,990 yen
Men
High Gauge Sweater (Long Sleeve) Pokémon 1 - 2,990 yen
High Gauge Sweater (Long Sleeve) Pokémon 2 - 2,990 yen
Heavyweight Big Sweat Hoodie (Long Sleeve) Pokémon 1 - 2,990 yen
Heavyweight Big Sweat Hoodie (Long Sleeve) Pokémon 2 - 2,990 yen
Heavyweight Big Sweat Hoodie (Long Sleeve) Pokémon 3 - 2,990 yen
Heavyweight Big Sweat Pullover (Long Sleeve) Pokémon 1 - 2,490 yen
Heavyweight Big Sweat Pullover (Long Sleeve) Pokémon 2 - 2,490 yen
Heavyweight Big Sweat Pullover (Long Sleeve) Pokémon 3 - 2,490 yen
Dry Boxer Shorts (Regular Rise) Pokémon 1 - 590 yen
Dry Boxer Shorts (Regular Rise) Pokémon 2 - 590 yen
Dry Boxer Shorts (Regular Rise) Pokémon 3 - 590 yen
Dry Boxer Shorts (Regular Rise) Pokémon 4 - 590 yen
High Ankle Socks Pokémon 1 - 390 yen
High Ankle Socks Pokémon 2 - 390 yen
Marshmallow Feel Lounge Set Pokémon - 3,490 yen
Pouch Pokémon - 1,990 yen
Kids
KIDS Crew Neck Sweater (Long Sleeve) Pokémon 1 - 1,990 yen
KIDS Crew Neck Sweater (Long Sleeve) Pokémon 2 - 1,990 yen
KIDS (unisex) Sweatshir Pullover (Long Sleeves) Pokémon 1 - 1,990 yen
KIDS (unisex) Sweatshir Pullover (Long Sleeves) Pokémon 2 - 1,990 yen
KIDS (unisex) Sweatshir Pullover (Long Sleeves) Pokémon 1+X - 1,990 yen
KIDS (unisex) Sweatshir Pullover (Long Sleeves) Pokémon 2+X - 1,990 yen
KIDS (unisex) Sweatshir Pullover (Long Sleeves) Pokémon 3+X - 1,990 yen
KIDS (unisex) Sweatshir Pullover (Long Sleeves) Pokémon 4+X - 1,990 yen
KIDS (Unisex) Fleece Lounge Set (Long Sleeves & Long Pants) Pokémon 1 - 1,990 yen
KIDS (Unisex) Fleece Lounge Set (Long Sleeves & Long Pants) Pokémon 2 - 1,990 yen
KIDS (Unisex) Fleece Lounge Set (Long Sleeves & Long Pants) Pokémon 3 - 1,990 yen
KIDS (Unisex) Fleece Lounge Set (Long Sleeves & Long Pants) Pokémon 4 - 1,990 yen
Pouch Pokémon - 1,990 yen
Baby
BABY(TODDLER) Graphic Sweatshirt (Long Sleeve) Pokémon 1 - 1,990 yen
BABY(TODDLER) Graphic Sweatshirt (Long Sleeve) Pokémon 2 - 1,990 yen
BABY(TODDLER) Graphic Sweatshirt (Long Sleeve) Pokémon 3 - 1,990 yen
Pouch Pokémon - 1,990 yen
Item List (Japanese):
Women
タートルネックセーター(長袖) Pokémon 1 - ¥2,490
タートルネックセーター(長袖) Pokémon 2 - ¥2,490
クロップドグラフィックスウェットパーカ(長袖) Pokémon 1 - ¥2,490
クロップドグラフィックスウェットパーカ(長袖) Pokémon 2 - ¥2,490
クロップドスウェットプルオーバー(長袖) Pokémon 1 - ¥1,990
クロップドスウェットプルオーバー(長袖) Pokémon 2 - ¥1,990
マシュマロフィールカーディガンセット(長袖 Pokémon - ¥3,490
ルームシューズ Pokémon - ¥1,490
ポーチ Pokémon - ¥1,990
Men
ハイゲージセーター(長袖) Pokémon 1 - ¥2,990
ハイゲージセーター(長袖) Pokémon 2 - ¥2,990
ヘビーウェイトビッグスウェットパーカ(長袖) Pokémon 1 - ¥2,990
ヘビーウェイトビッグスウェットパーカ(長袖) Pokémon 2 - ¥2,990
ヘビーウェイトビッグスウェットパーカ(長袖) Pokémon 3 - ¥2,990
ヘビーウェイトビッグスウェットプルオーバー(長袖) Pokémon 1 - ¥2,490
ヘビーウェイトビッグスウェットプルオーバー(長袖) Pokémon 2 - ¥2,490
ヘビーウェイトビッグスウェットプルオーバー(長袖) Pokémon 3 - ¥2,490
ドライボクサーパンツ(レギュラーライズ) Pokémon 1 - ¥590
ドライボクサーパンツ(レギュラーライズ) Pokémon 2 - ¥590
ドライボクサーパンツ(レギュラーライズ) Pokémon 3 - ¥590
ドライボクサーパンツ(レギュラーライズ) Pokémon 4 - ¥590
ハイアンクルソックス Pokémon 1 - ¥390
ハイアンクルソックス Pokémon 2 - ¥390
マシュマロフィールラウンジセット Pokémon - ¥3,490
ポーチ Pokémon - ¥1,990
Kids
KIDS(男女兼用)クルーネックセーター(長袖) Pokémon 1 - ¥1,990
KIDS(男女兼用)クルーネックセーター(長袖) Pokémon 2 - ¥1,990
KIDS(男女兼用)スウェットプルオーバー(長袖) Pokémon 1 - ¥1,990
KIDS(男女兼用)スウェットプルオーバー(長袖) Pokémon 2 - ¥1,990
KIDS(男女兼用)スウェットプルオーバー(長袖) Pokémon 1+X - ¥1,990
KIDS(男女兼用)スウェットプルオーバー(長袖) Pokémon 2+X - ¥1,990
KIDS(男女兼用)スウェットプルオーバー(長袖) Pokémon 3+X - ¥1,990
KIDS(男女兼用)スウェットプルオーバー(長袖) Pokémon 4+X - ¥1,990
KIDS(男女兼用)フリースラウンジセット(長袖&ロングパンツ) Pokémon 1 - ¥1,990
KIDS(男女兼用)フリースラウンジセット(長袖&ロングパンツ) Pokémon 2 - ¥1,990
KIDS(男女兼用)フリースラウンジセット(長袖&ロングパンツ) Pokémon 3 - ¥1,990
KIDS(男女兼用)フリースラウンジセット(長袖&ロングパンツ) Pokémon 4 - ¥1,990
ポーチ Pokémon - ¥1,990
Baby
BABY(TODDLER)グラフィックスウェット(長袖) Pokémon 1 - ¥1,990
BABY(TODDLER)グラフィックスウェット(長袖) Pokémon 2 - ¥1,990
BABY(TODDLER)グラフィックスウェット(長袖) Pokémon 3 - ¥1,990
ポーチ Pokémon - ¥1,990
Source:
https://www.gu-global.com/jp/ja/feature/cms/Pokémon-collab/all/