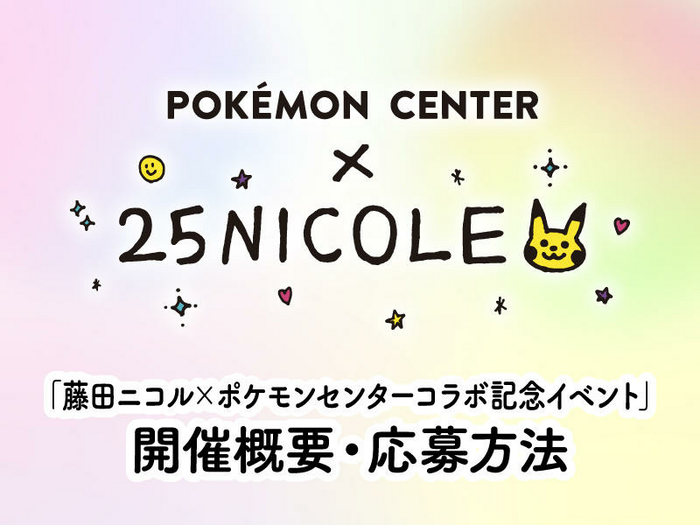 A special collaboration with
Nicole Fujita
,
Pokémon Center x 25NICOLE
, is being held in conjunction with the Pokémon Center. To celebrate the collaboration, an event featuring Nicole Fujita, where people can meet her in-person, will be held at
Lumine Est Shinjuku
! 72 people (36 pairs) of people who applied and won the lottery will get the chance to attend this event on December 10th, 2022. The lottery application period was from November 4th, 2022 to November 13th, 2022 at 23:59.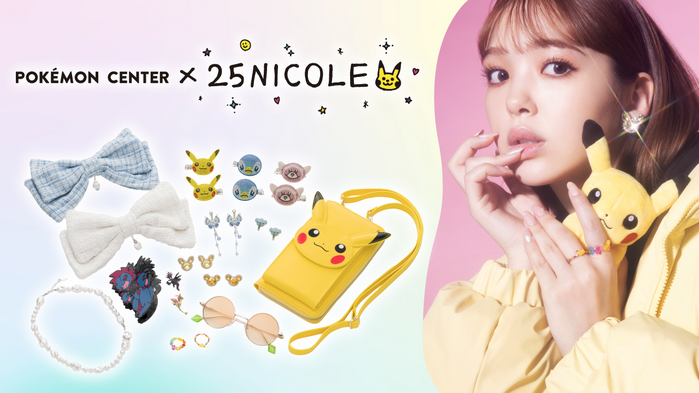 On November 25th, 2022, the
Pokémon accessory×25NICOLE
line was revealed. At the event, there will be a presentation by Nicole Fujita, an introductory presentation to the collaboration products, and a quiz contest. Wear your Pokémon Center x 25NICOLE goods and join Nicole Fujita at the event!
The Petit Collection by Pokémon Center will also feature a lineup of products created in collaboration with Nicole Fujita. A Petit Collection by Pokémon Center Pop-up Shop will open at the Shinjuku Lumine Est B1F Event Space from Wednesday, December 7th, 2022 to Friday, December 16th, 2022. It will be open weekdays from 11:00 to 21:00 and weekends and holidays from 10:30 to 21:00. Quantities are limited.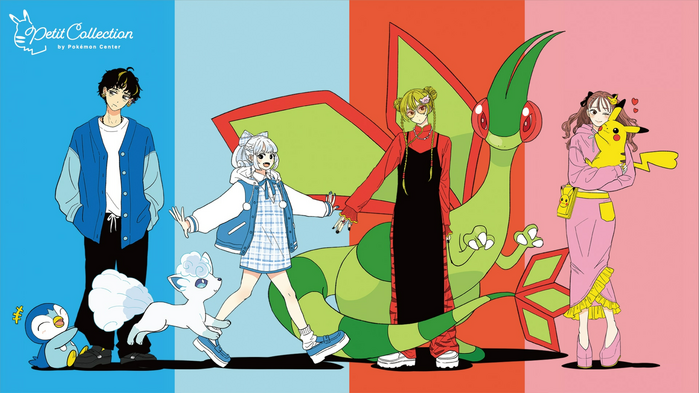 Photos:
Items: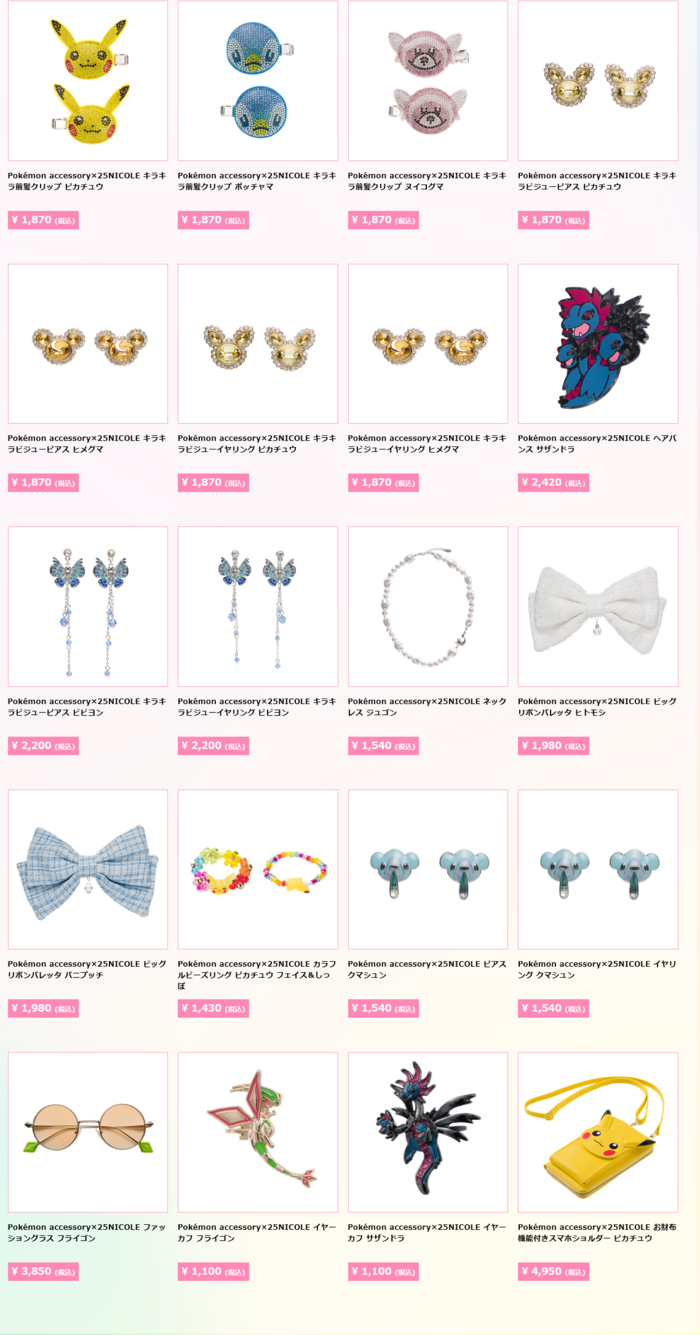 Items List (English):
Pokémon accessory×25NICOLE Fashion Glasses - Flygon - 3,850 yen
Pokémon accessory×25NICOLE Ear Cuff - Flygon - 1,100 yen
Pokémon accessory×25NICOLE Ear Cuff - Sazandra - 1,100 yen
Pokémon accessory×25NICOLE Glittery Gem Earrings Pikachu - 1,870 yen
Pokémon accessory×25NICOLE Glittery Gem Earrings Himeguma - 1,870 yen
Pokémon accessory×25NICOLE Glittery Gem Earrings Viviyon - 2,200 yen
Pokémon accessory×25NICOLE Glittery Gem Earrings Pikachu - 1,870 yen
Pokémon accessory×25NICOLE Glittery Gem Earrings Himeguma - 1,870 yen
Pokémon accessory×25NICOLE Glittery Gem Earrings Viviyon - 2,200 yen
Pokémon accessory×25NICOLE Earrings - Kumashun - 1,540 yen
Pokémon accessory×25NICOLE Earrings - Kumashun - 1,540 yen
Pokémon accessory×25NICOLE Necklace - Jugon - 1,540 yen
Pokémon accessory×25NICOLE Colorful Bead Ring Pikachu Face & Tail - 1,430 yen
Pokémon accessory×25NICOLE Hair Bun - Sazandra - 2,420 yen
Pokémon accessory×25NICOLE Big Ribbon Barrette - Vanipeti - 1,980 yen
Pokémon accessory×25NICOLE Big Ribbon Barrette - Hitomoshi - 1,980 yen
Pokémon accessory×25NICOLE Glittery Bangs Clip Pikachu - 1,870 yen
Pokémon accessory×25NICOLE Glittery Bangs Clip Pochama - 1,870 yen
Pokémon accessory×25NICOLE Glittery Bangs Clip Nuikoguma - 1,870 yen
Pokémon accessory×25NICOLE Smartphone Shoulder Strap Wallet Pikachu - 4,950 yen
Items List (Japanese):
Pokémon accessory×25NICOLE ファッショングラス フライゴン 3,850円
Pokémon accessory×25NICOLE イヤーカフ フライゴン 1,100円
Pokémon accessory×25NICOLE イヤーカフ サザンドラ 1,100円
Pokémon accessory×25NICOLE キラキラビジューピアスピカチュウ 1,870円
Pokémon accessory×25NICOLE キラキラビジューピアス ヒメグマ 1,870円
Pokémon accessory×25NICOLE キラキラビジューピアス ビビヨン 2,200円
Pokémon accessory×25NICOLE キラキラビジューイヤリング ピカチュウ 1,870円
Pokémon accessory×25NICOLE キラキラビジューイヤリング ヒメグマ 1,870円
Pokémon accessory×25NICOLE キラキラビジューイヤリング ビビヨン 2,200円
Pokémon accessory×25NICOLE ピアス クマシュン 1,540円
Pokémon accessory×25NICOLE イヤリング クマシュン 1,540円
Pokémon accessory×25NICOLE ネックレス ジュゴン 1,540円
Pokémon accessory×25NICOLE カラフルビーズリング ピカチュウ フェイス&しっぽ 1,430円
Pokémon accessory×25NICOLE ヘアバンス サザンドラ 2,420円
Pokémon accessory×25NICOLE ビッグリボンバレッタ バニプッチ 1,980円
Pokémon accessory×25NICOLE ビッグリボンバレッタ ヒトモシ 1,980円
Pokémon accessory×25NICOLE キラキラ前髪クリップ ピカチュウ 1,870円
Pokémon accessory×25NICOLE キラキラ前髪クリップ ポッチャマ 1,870円
Pokémon accessory×25NICOLE キラキラ前髪クリップ ヌイコグマ 1,870円
Pokémon accessory×25NICOLE お財布機能付きスマホショルダー ピカチュウ 4,950円
Sources:
https://www.pokemoncenter-online.com/?s=special/25NICOLE
and
https://voice.pokemon.co.jp/stv/zenten/2022/11/post-12316.html