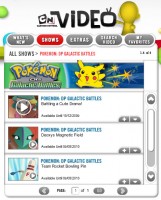 Cartoon Network has begun airing the latest season of Pokémon,
Pokémon: DP Galactic Battles
in widescreen and in High Definition on their United States channel for the English dub.
They have also begun putting up the latest episodes on their website. The
CN Video Section
of the website posts full-length episodes split into parts using Flash. It appears Cartoon Network will keep the episodes available online for a few weeks before the video expires.
DPGB 20 - Battling a Cute Drama
is available now to watch on the site for free for anyone in the United States by
clicking here
. Cartoon Network has also adjusted their website to redirect many out of country visitors to a
landing page
.