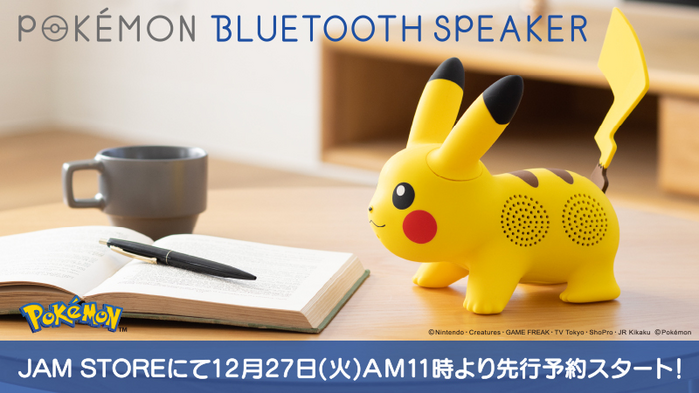 A
POKÉMON BLUETOOH SPEAKER
, a Bluetooh speaker with a Pikachu design, is now available to pre-order on the official JAM STORE website! The speaker costs 8,250 yen (including tax) but the shipping fee will be calculated at the time of purchase and it is only available to ship to Japan. It will be delivered in February 2023.
Pictures of this product have been added to an Imageboard thread
.  
Product Description:
Pikachu, who is loved by all generations, has become an easy-to-carry speaker. You can easily enjoy your favorite music by connecting it to your smartphone or tablet via Bluetooth. Pikachu is rechargeable and portable, so you can enjoy music and videos in the living room, kitchen, children's room, outdoors, or anywhere you like.
Product Contents:
POKÉMON BLUETOOH SPEAKER
USB charging cord
3.5mm plug cord
Instruction manual with warranty
Product Description:
Dimensions: approx. H200 x W115 x D180 mm (*Box size: approx. H230 × W205 × D135 mm)
Product weight: approx. 450 g
Material: Silicone Rubber, ABS resin
Target age: 15 years old and up
Wireless version: BT5.1
Maximum output: 3W
Impedance: 4 ohm
Speaker sensitivity: 89dB
Bluetooth transmission frequency : 2.4GHz-2.483GHz
Signal to Noise Ratio: S/N 75~80dB
Playback time: Approx. 8 hours (varies depending on volume)
Lithium battery voltage: 3.7V DC
Lithium battery capacity: 2000mAh
Charging time: 3.5+/-0.5 hours
Charging voltage/current: 5V/1A adapter
Transmission distance: Up to 10m (depends on usage environment and bluetooth version)
Sources:
https://jamstore.jp/products/4580696830700
and
https://twitter.com/Pokemon_cojp/status/1607571975400046594