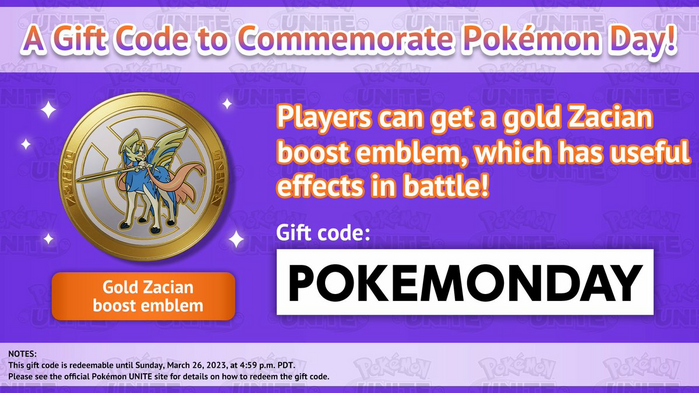 Happy Pokémon Day! Redeem the code
POKEMONDAY
between February 27th, 2023 and Sunday, March 26th, 2023 at 4:59 pm PDT and receive a free Gold Zacian Emblem! Also, enter the code
POKEMONDAY23
to receive a Knight Style: Charizard (7-Day Holowear Rental), a 7-Day Limited License: Mew and a 7-Day Limited License: Dragapult.
How to Pokémon Unite Redeem Codes:
1. On the main lobby screen, click the calendar button on the right.
2. Click Daily Events at the top.
3. Scroll down to Gift Exchange on the left and click it.
4. Press Exchange.
5. Type in the code and press Exchange.
6. A notification will appear stating that the gift will appear in the in-game mailbox.
Source:
https://twitter.com/PokemonUnite/status/1630372212996730881