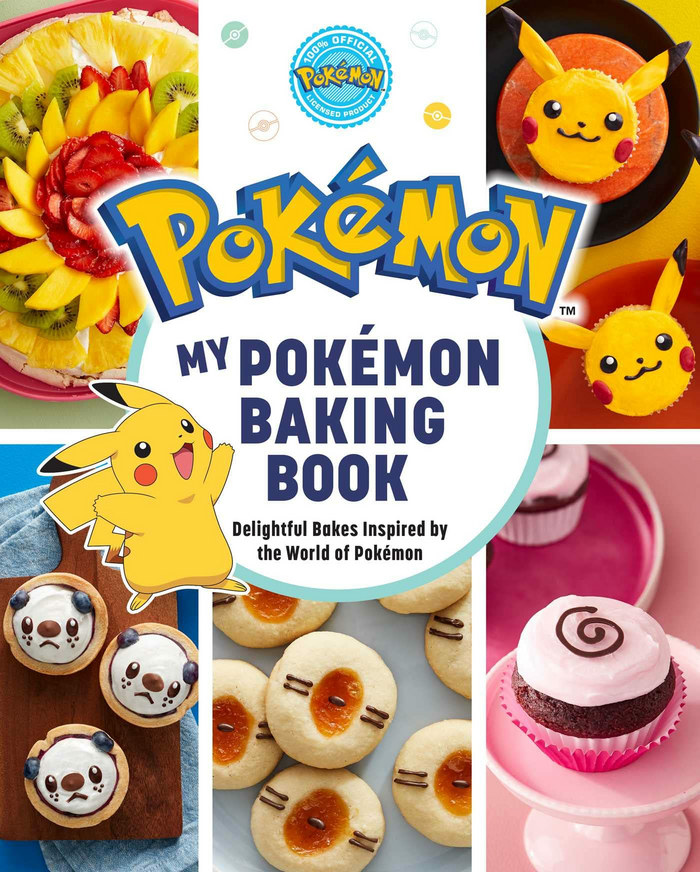 Bake delicious, colorful treats and create lasting memories in the kitchen with your team with these amazing recipes inspired by the world of Pokémon!
Sample pages have been added to an Imageboard thread
.
Explore confections and desserts representing every region of the incredible Pokémon universe. Featuring favorite treats that celebrate beloved characters from the world of Pokémon, My Pokémon Baking Book is the perfect addition to any Pokémon Trainer's kitchen. Great for fans of all ages!
Details:
50+ RECIPES: From quick treats to share with friends to dazzling dessert displays perfect for celebrating a Pokémon League victory, My Pokémon Baking Book includes recipes for every occasion.
REGIONAL SPECIALTIES: Explore favorite and unique flavors from every currently known region, including the newly discovered region, Paldea!
FAVORITE CHARACTERS: Create cookies, cakes, breads, cupcakes, and more with bakery-fresh recipes inspired by Pikachu and friends!
DISHES FOR EVERY SKILL LEVEL: With step-by-step instructions and beautiful photographs, My Pokémon Baking Book will teach you how to make iconic foods that bring the vibrant culinary sweets inspired by the world of Pokémon to life. Whether you're baking with other Trainers or your family, these easy-to-follow recipes will make you a baking master in no time!
COMPLETE YOUR COLLECTION: Looking for more creative fun? My Pokémon Cookbook is available to take you on another Pokémon culinary adventure, while Pokémon Wisdom: A Journal for Embracing Your Inner Trainer provides creative journaling!
About the Author
Jarrett Melendez grew up on the mean, deer-infested streets of Bucksport, Maine. A former chef and line cook, Jarrett has worked in restaurants, diners, and bakeries throughout New England and Mexico, and got instruction on Japanese home cooking from some very patient host mothers when he lived in Tokyo and Hiroshima. He's been a professional writer since 2009, but started working as a recipe developer and food writer in 2020. His work has appeared on Bon Appétit, Saveur, Epicurious, and Food52, and he is the author of The Comic Kitchen, an upcoming fully illustrated, comic-style cookbook. When not cooking and writing about food, Jarrett is also an award winning comic book writer. His best known work is Chef's Kiss from Oni Press, which won the Alex Award from the American Library Association, along with a GLAAD award nomination for Outstanding Graphic Novel. Jarrett has contributed to the Ringo-nominated All We Ever Wanted, Full Bleed, Young Men in Love, and Murder Hobo: Chaotic Neutral. He is currently working on Tales of the Fungo: The Legend of Cep, a middle-grade fantasy adventure, to be published by Andrews McMeel. He lives in Massachusetts with his collection of Monokuro Boo plush pigs.
Info:
Publisher: ‎ Insight Editions
Release Date: September 19th, 2023
Hardcover: ‎ 144 pages
ISBN-13: ‎ 979-8886631302
Item weight: ‎ 342 g
Dimensions: ‎ 20.32 x 0.88 x 25.4 cm