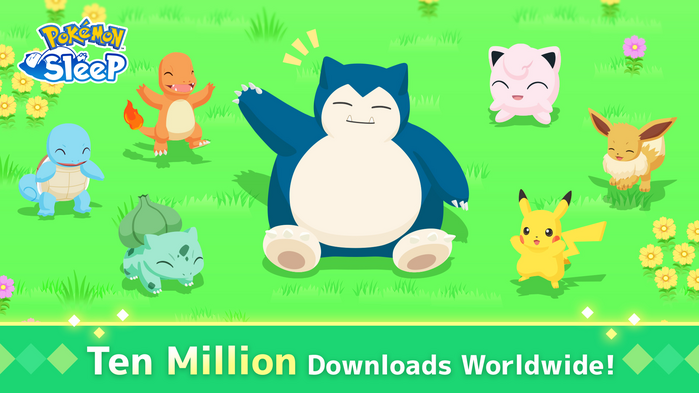 In the month since
Pokémon Sleep
was released, it has been downloaded 10 million downloads worldwide and to celebrate that achievement, Commemorative Gifts will be given out from August 25th, 2023 to September 22nd, 2023.
10 Million Downloads Worldwide!
Pokémon Sleep, released for iOS and Android in late July, 2023, has reached 10 million downloads worldwide. We will be distributing gifts to celebrate this milestone.
10 Million Downloads Commemorative Gifts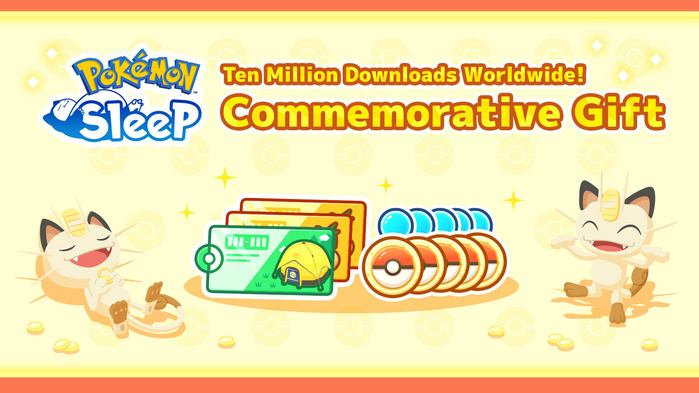 Distribution period: 2023/8/25 01:00 to 2023/9/22 01:00
Contents:
• Sleep points ×1,000
• Good Camp Ticket ×1
• Ingredient Ticket S ×3
• Poké Biscuit ×5
Notes: Once the distribution period has begun, you can accept your gifts by selecting Main Menu from the home screen, and then tapping on the gift box in the upper right of the menu screen.
The Good Camp Ticket is a special item that lets you borrow a Good Camp Set for seven days to aid your research and help you raise Snorlax.
An extra Pokémon will gather to sleep during your sleep research, and it will be hungry during snack time. If you give a Poké Biscuit to a hungry Pokémon, you'll get three times the usual number of friendship points. We hope you can use this chance to befriend more Pokémon.
Using the Good Camp Ticket will also have other effects, such as increasing the size of your cooking pot by 50% and speeding up the help you get from your helper Pokémon. You can use Ingredient Tickets to get a variety of ingredients to help you raise your Snorlax nice and big.
Source:
https://www.pokemonsleep.net/en/news/2465/