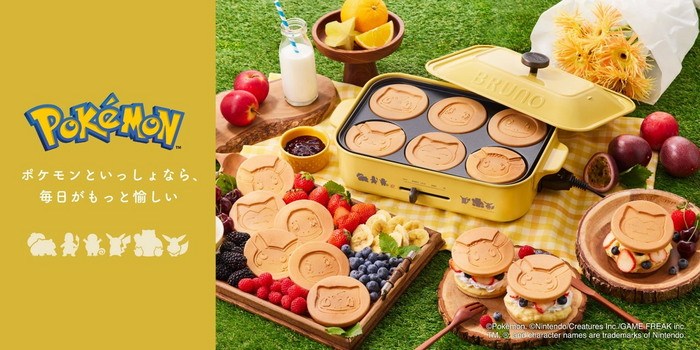 BRUNO, a leading designer, developer of interior goods and lifestyle products, announced the release of a Compact Hot Plate featuring Pokémon designs. The new product will be on sale on Thursday, October 12th, 2023.
In addition to the flat plate and takoyaki plate, a multi-plate is included that can be used to cook six kinds of cute mini Pokémon pancakes. The special design includes an engraved handle knob with a monster ball design, and is sure to be a hit with children and adults alike! Make your dining table more enjoyable with Pokémon!

The main units have illustrations of Pokémon
A simple design with Pokémon silhouettes. Enjoy cooking time with Pokémon.

Plate for baking Pokémon pancakes
It comes with a multi-plate of Pokémon faces. Brighten up your dining table with cute mini pancakes featuring Pokémon.

Special engraved knobs handles and packaging
The knob is engraved with the Pokémon logo and the monster ball is only available on the special edition Pokémon Compact Hot Plate. The original packaging has Pokémon illustrations which makes it a great gift.
A SPECIAL RECIPE that can be made with the Pokémon Hot Plate is also available!
Both adults and children love the Vegetable Omelet Curry! This cute-looking omelette curry combines omelette rice and curry in one dish. Vegetables make it even tastier and more colorful! Enjoy hot plate cooking with Pokémon!

Product Details:
Product Name:
Pokémon Compact Hot Plate (ポケモン コンパクトホットプレート)
Price:
17,600 yen (tax included)
Size:
Approximately W375 x H140 x D235mm
Weight:
Approx. 2.3kg (when using flat plate and lid)
Material:
Main body: Steel/Rresin, Plate: Aluminum
Rated Power Consumption:
1200W
Power Supply:
AC100V
Accessories:
Flat plate, Takoyaki plate, Pancake plate, Magnetic detachable power cord, Wooden spoon
Source:
https://prtimes.jp/main/html/rd/p/000000045.000090148.html