The latest episode of Pocket Monsters
Diamond & Pearl 159 - Roar, Ice Punch! Buoysel VS Barrierd!! (唸れ れいとうパンチ!ブイゼルVSバリヤード!!)
, aired on Thursday in Japan.
While heading to Asatsuki Town for Hikari's next contest, Satoshi and his friends stop by a river while Satoshi trains with Fukamaru. Suddenly a Barrierd and its trainer jump out from behind the waterfall and challenges Satoshi and Buoysel to a battle. Can Satoshi and Buoysel defeat Kijūrō and his Barrierd?!
Characters
,
Music
and
Pictures
from this episode have been added to the
episode guide
. You can also
comment and discuss
this episode. Also be sure to rate this and other episodes in the
episode guide
.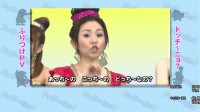 A new live action variant of Dotchi Nyo~! aired at the end of today's episode. The ending features a bunch of girls dancing and singing along to the song. The ending direction remains animated though.