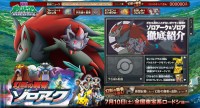 The Official Pocket Monsters Movie site has updated and added a bunch of new content to the Adobe Flash required site.
Character bios
, wallpapers, artwork,
movie trailers
, news and product information have all been updated for the upcoming movie
The Ruler of Illusions Zoroark (幻影の覇者 ゾロアーク)
which will be in Japanese theaters on July 10th, 2010. Below is some of the new information that was revealed on the site.
Story
Satoshi and friends arrive in Crown City (クラウンシティ) to watch the Pokémon Backer World Cup (ポケモンバッカー・ワールドカップ). The city is a beautiful combination of old building and streets, modern buildings and lush vegetation. While there, Satoshi meets the Pokémon Zorua (ゾロア) and decides to help it look for its friend.
Suddenly, after 20 years and with the threat of an impending crisis in Crown City, the legendary Pokémon Celebi returns as Zoroark (ゾロアーク) terrorizes the city with its transformations into Raikou, Suicune and Entei. What is Celebi's fate? What will Satoshi and Pikachu do to save the city and the Pokémon...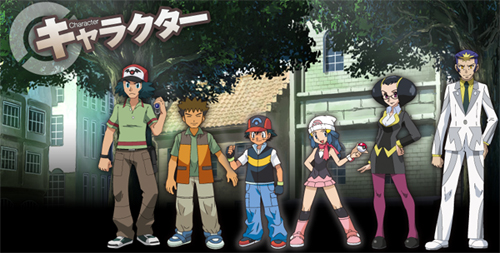 Left to Right: Kurt (クルト), Takeshi (タケシ), Satoshi (サトシ), Hikari (ヒカリ), Rioka (リオカ) & Kōdai (コーダイ)
Kurt (クルト):
Kurt is a Crown City newspaper reporter trying to find out "The Secret of Kōdai" (コーダイの秘密). He always has a camera in hand.
Rioka (リオカ):
Rioka is Kōdai's cool and intelligent secretary.
Kōdai (コーダイ):
He is the president of the large company Kōdai Network (コーダイネットワーク) . He appears to be the main villain.
The latest wallpaper for the month of March has also
been added to the Imageboard
. The wallpaper features all the new characters from the movie and it is available in various resolutions.
Source:
http://www.pokemon-movie.jp/