The official Pokémon website has revealed the three new Pokémon LEGENDs cards that players can find in the upcoming set HS Unleashed. Each card one is composed of two of the three legendary Pokémon: Raikou, Entei or Suicune. The cards once again have some of the most extraordinary art depicting these Legendary Pokémon! Below are the revealed cards and some information from the official press release.
These new Pokémon LEGENDs continue to demonstrate the same power as Ho-Oh LEGEND and Lugia LEGEND from the HeartGold & SoulSilver expansion. But latest Pokémon LEGENDs have a few twists that make them all the more intriguing: each of them has two types, meaning they can be extra-effective against more than one type of Defending Pokémon. However, they all have two types of Weakness as well! It's twice the benefit...and twice the risk! Further, these Pokémon LEGEND cards will net your opponent two Prize cards if they get Knocked Out in battle—fortunately, they all have high HP, making them especially tough to take down!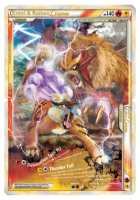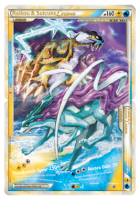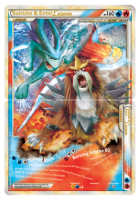 The Pokémon TCG expansion: HS—Unleashed will arrive in stores in the United States on May 12, 2010.
Source:
http://www.pokemon.com/us/news/tcg_hgss2_featured_legends-2010-03-22/