Another 8 DVD set has been announced for release in Japan that features: Getting Contest Ribbons, Getting Gym Badges and Getting Pokémon. The Pokémon TV Anime Collection DVD Get! Get! Get! (ポケモンTVアニメコレクションDVD ~ゲット!ゲット!ゲット!) volumes feature one episode per mini DVD like the previous sets with episodes based on the 'getting' theme. The DVD's will be sold for 399 yen each on July 27th, 2010, but many stores offer a small discount if you buy the entire set as a whole. Below is a list of the DVD's and the episodes that are on them.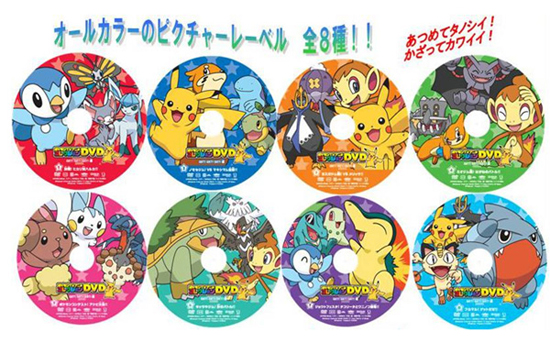 The episodes on the DVD's are:

Volume 1 DVD:
[ep=687]Decisive Match! Hikari VS Haruka!! (決戦!ヒカリVSハルカ!!)[/ep]
Volume 2 DVD:
[ep=799]Nomose Gym! VS Maximum Mask!! (ノモセジム!VSマキシマム仮面!!)[/ep]
Volume 3 DVD:
[ep=928]Yosuga Gym Battle! VS Melissa!! (ヨスガジム戦!VSメリッサ!!)[/ep]
Volume 4 DVD:
[ep=942]Mio Gym Match! Steel Battle!! (ミオジム戦!はがねのバトル!!)[/ep]
Volume 5 DVD:
[ep=956]Pokémon Contest! Akebi Tournament!! (ポケモンコンテスト! アケビ大会!!)[/ep]
Volume 6 DVD:
[ep=982]Kissaki Gym! Ice Battle!! (キッサキジム! 氷のバトル!!)[/ep]
Volume 7 DVD:
[ep=1016]Jouto Festa! Chicorita and Waninoko Appear!! (ジョウトフェスタ! チコリータとワニノコ登場!!)[/ep]
Volume 8 DVD:
[ep=1049]Fukamaru! Get it!! (フカマル! ゲットだぜ!!)[/ep]
The DVD's have been added to our
DVD Database
. There you can find information about Pokémon DVD's from around the world.
Source:
http://item.rakuten.co.jp/bigbe/30394/