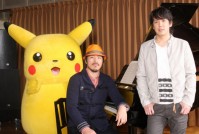 The official Pocket Monsters Movie 13 website has announced that Sukima Switch will sing the ending theme for the upcoming movie,
The Ruler of Illusions Zoroark (幻影の覇者 ゾロアーク)
. The theme is titled Ice Cream Syndrome (アイスクリーム シンドローム) and director requested that the song be a "medium tempo love song". Clips from song will debut throughout Japanese theaters starting April 17th, 2010.
Sukima Switch (スキマスイッチ) is a jazz rock band consisting of two guys, Takuya Ōhashi (大橋卓弥) and Shintarō Tokita (常田真太郎). They are well known to anime fans for singing the third opening to Fullmetal Alchemist Brotherhood titled Golden Time Lover.
Sources:
http://www.oricon.co.jp/news/music/75134/full/
http://www.pokemon-movie.jp/cd/
http://www.office-augusta.com/sukimaswitch/information_sukima.html#release_icecream