A bunch of new Pokémon Trading Card Game merchandise announced for release later this year. The merchandise covers the latest HeartGold SoulSiver sets. Below is a list of the new products.
2010 HeartGold & SoulSilver Holiday Box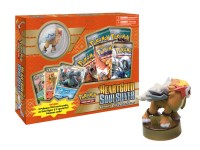 The Heat Is On in the Pokémon TCG: HeartGold & SoulSilver Series Collection Holiday Box! Who can stand the heat to train the Legendary Pokémon Entei? You can! In the Pokémon Trading Card Game: HeartGold & SoulSilver Series Collection Holiday Box, you'll find more than 50 Pokémon cards, including three selected foil promo cards, to expand your collection, all watched over by a spectacular figure of the Volcano Pokémon Entei. Every Trainer will lava this awesome collection!
In each box you'll find:
5 x HeartGold SoulSilver Series Booster packs
1 x Amazing Entei Figure
3 x Collectible foil cards
UPC Code: 8-20650-10683-5
Expected Availability: December 2010!
2010 Winter Collector's Tins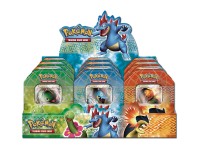 Pokémon are the heart and soul of any great Pokémon Trainer, and now is your chance to catch some of the greatest Pokémon of all time with the all-new Pokémon Trading Card Game (TCG): HeartGold & SoulSilver! New kinds of cards will change the way you play—like Pokémon Prime and the astonishing Pokémon legends Ho-Oh and Lugia—plus you'll find lots of Trainer cards that will accelerate your game and select Energy cards with a brand-new look. The HeartGold & SoulSilver expansion will get you started on your journey to greatness!
Contents:
4 x Pokemon TCG Booster Packs
1 of 3 HeartGold & SoulSilver Pokemon Prime: Feraligatr, Typhlosion or Meganium!
A great window designer for displaying your favourite card
UPC Code: 8-20650-10680-4
Available now!
Pokémon TCG: Player's Packs (Green and Purple)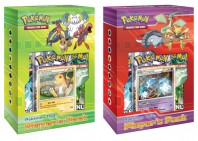 Become the amazing trainer you are destined to be! These sets contain everything you need to begin playing the Pokemon Trading Card Game or to improve your collection. Who will you challenge to battle once you join forces with some of the most spectacular Pokemon of all time?
Contents:
UPC Code: 8-20650-10687-3
3 x 10-Card Booster Packs
1 x Foil Card
Available Now!
HS Triumphant Blister 3-Pack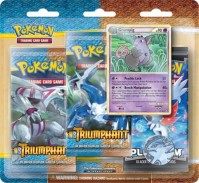 The HS Triumphant Blister set will include 3 packs of cards as well as the new Grumpig card from the set (21/102). The blister pack will be released on November 3rd, 2010.
As announced the other day
, HS Triumphant will be the final English HeartGold Soulsilver Pokémon Trading Card Game expansion set.
The
HS Triumphant set has been added to our database
. The set information will be updated as information becomes available.
Source:
http://www.croftminster.com.au/products/pokemon